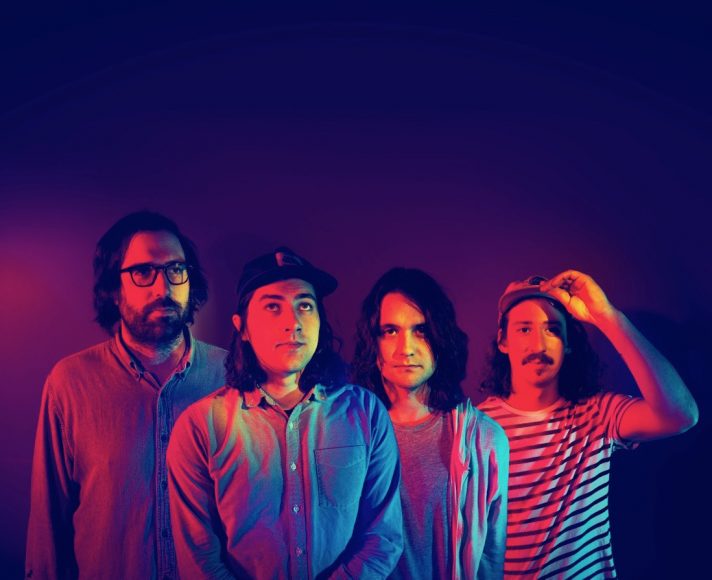 Flaural
Biography
It's rare these days that a band founded on pushing sonic boundaries is conscious of not alienating the listener. In the case of Denver-based rockers, Flaural, their music feels like the spoils of deep exploration, brought back down to earth for all to observe in traditional rock outfit form.


Flaural / ˈflôrəl / is the unified sum of four equal parts. The hypnotic pulse of Nick Berlin's kraut rock drum grooves crystalize as the backdrop atop which sprawls the band's ethereal art-pop-songwriting. Connor Birch's expansive synths and keys, the unique virtuosity and aggression of Noah Pfaff's guitar playing, and the resonant croon of Colin Johnson's vocals and driving bass lines all coalesce into experimental psych rock that warmly invites the uninitiated listener into the unknown.


Following a string of EPs — 2015's Thin King and 2016's Over Imaginary Cigarettes — Flaural's debut LP, appropriately titled Postponement, has been three years in the making. Early pieces of Postponement were initially recorded while touring through the San Francisco Bay Area at the, now defunct, Animal Room, but the album arrangements didn't begin to take form until the band settled back in Denver and linked up with producer / engineer James Barone (Beach House, Tennis). Over the course of the next year and a half, the band found pockets of time to finish the recordings. Time becoming a central theme of the album as a whole.
---
Video & Press
Flaural Is One of Colorado's Best Bands, Even If It's Hardly Ever Here

The busy quartet will play the Underground Music Showcase July 28 before its latest tour, which starts in September [The Denver Post] By John Wenzel If there's such a thing as laid-back professionalism, Flaural has it. Seated around a wooden table at the RiNo bar Pon Pon last week, the members of the Denver rock band — all […]

PREMIERE: Flaural Get Rocky Mountain High on '1616' Video

The Denver band bring back fuzzy, feel-good vibes from a very dark place. [Flood] By Scott T. Sterling If Flaural are any indication, Denver, Colorado, is sounding really good right now. From the sounds of the band's new track, "1616," good vibes and warm, psychedelic tones are in abundance around the Mile High City. Riding an easy, […]

Hear Flaural's Haunting New Single 'The Thinker'

[Stereogum] By Ryan Leas The Denver-based psych-rock outfit Flaural first appeared back in 2015, with the release of an EP called Thin King. The next year, another EP titled Over Imaginary Cigarettes followed. Then, the band went quiet for a while. They were writing and developing at the same time as they were grappling with personal upheavals. Now, […]

Flaural Returns To CPR's OpenAir After A Successful Year

[Colorado Public Radio] By Daniel Mescher When Flaural visited our studio in 2015, the Denver psychedelic rock band had just formed a few months beforehand and played only one show. But the band members had established specific goals: release some EPs, go on tour and play some festival dates. Flaural has since accomplished each of […]

Listen to Flaural's Daytrotter Session

Listen here!
---