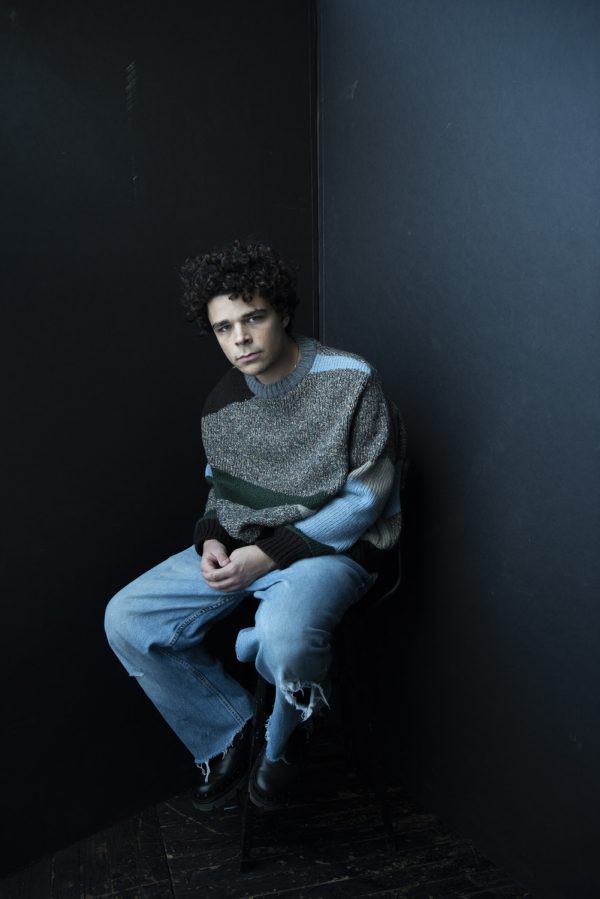 Charlie Hickey
Biography
Nervous at Night
Charlie Hickey's debut album, Nervous At Night, began with a journey. Having grown up in Pasadena, in the quiet shadow of downtown LA, Hickey moved away to college at the same time that he got more serious about music, and found himself moving back and forth between his hometown and his newfound independence to play around with song ideas and demos with his friend and collaborator Marshall Vore. These two worlds reveal themselves in numerous forms across Nervous At Night, as Hickey explores life's graceless passage between teenage years and adulthood, and all of the noise that permeates
Born into a musical family, as a child Hickey would obsessively watch videos of his parents on tour with their old band Uma, learning all the lyrics that he loved but didn't understand. This introduction to music and songwriting sowed a seed, and Hickey was soon writing songs of his own, playing on the guitars that lay around him and singing about the little details of his school days. He continued this throughout his teen years, and the worlds he conjured becoming an outlet for his growing anxieties, which Hickey now understands to be Obsessive Compulsive Disorder. "It gave me a safe place to let my mind run wild and explore all its little corners," he says. "I still struggle with my mind but music has really made me a happier person."
Formed of eleven new songs and released in the early Summer of 2022 via Phoebe Bridgers' Saddest Factory Records, Nervous At Night is, of course, led by Hickey's remarkable voice, a voice that, like the best pop artists, holds the brave balance of singing fearlessly about your fears.  Across the album, he lays out those fears, frustrations, and faith in friendships in richly detailed ways. While Hickey calls the album a pop record, he admits that sonically it moves in many directions, an amalgamation of his love for folk singers of yesteryear and more contemporary peers, from Taylor Swift and The 1975, to Elliott Smith, to Conor Oberst. Like those heroes, Hickey shares a clarity in his songs that is specific in its songwriting but still inviting, open and generous. Nowhere is that truer than on title track "Nervous at Night", a pop anthem that instantly joins the canon of the great Unrequited Love Songs, with a hook that dances over the song's anxieties, as Hickey sings how he "can't keep throwing rocks up at your window."
Nervous at Night shifts between quiet, heavy-hearted ballads and gleaming, hook-laden tracks. Album opener "Dandelion" is a winding, confessional monologue, built on a folk foundation but moving effortlessly into a shimmering pop dream.  "Month of September" – which features a guest turn from Dawes' drummer Griffin Goldsmith –  feels like the capturing of a moment ("In a few weeks we're going back to the studio to finish the record," Hickey sings,) but then subtly shifts to a reflection of the kind of anticipation that is so tightly bound to childhood; like counting down to the days to Christmas, like waiting in line for a rollercoaster. "Gold Line" arrives disguised as a windows-down singalong, and it's well built for that, but hidden underneath is a deeper layer, as Hickey sings about feelings bigger than he can control or resist.
The topsy-turvy narrative was only noticed by Hickey in hindsight when he stepped back to view this collection of songs as one whole body of work. "I only realized the theme in retrospect because they were written over a really long period of time," he explains. "But it is true that there's a thread of growing up running through it, also transitioning into adulthood and having your inner child still be a very big part of you."
This age of disconnection leaves its mark across Nervous At Night. Hickey admits that he often finds himself applying the lens of nostalgia to events as they happen, occasionally viewing the meaningful moments of his life as an outsider, acutely aware of how fleeting such sweetness can be. But there is community here too, a genuine sense of connection that holds Nervous at Night in place. Hickey grew up in the same neighborhood as Phoebe Bridgers, the two becoming close friends from the age of thirteen, and he says that he views his songs as taking place in such a suburb, one similar to the dream-like safe-haven of Pasadena.
And so we have "Planet With Water", a plaintive love song that sings of phone calls after school, of hearing a neighbor's TV through the wall. It's full of quietly fading evenings, the disorientating loneliness found in the yellow-glow windows of suburban homes, from the outside looking in: "I could stay here forever if I didn't know better," Hickey sings with a palpable ache.
Elsewhere "Mid Air" holds a similar weight in the pit of its stomach, Hickey singing of "spinning in mid-air, looking for somewhere to land, or some face to show up" as the song flourishes around his voice, delicately accompanied by guest turns from fellow LA musicians Harrison Whitford, Christian Lee Hutson and Mason Stoops.
"It feels almost too good to be true," Hickey says of the small crew of friends that assisted him on the record, who are also thriving on their own projects – from label boss Phoebe Bridgers and producer Marshall Vore, to the aforementioned Whitford, Hutson, and Stoops. "Growing up and being surrounded by the people who you think are the best songwriters in the world is intimidating but also really inspiring," Hickey explains. "It's amazing to have people around that are doing what you wanna do and even informing what it is that you wanna do."
Nervous At Night comes alive in its juxtapositions, chronicling the constant push and pull of life, both its stagnancy and motion in refreshing and honest ways. Chiefly though, this is an album about connection, how even through those struggles we rely on the people around us to keep moving forwards. "I'd like to write songs that are for everyone, that let people into my inner world while also hopefully making people feel less alone on their own. I hope that these songs can be there for somebody the way my favorite songs have been for me."
---
Video & Press
Charlie Hickey on NPR All Songs Considered

[NPR] By Bob Boilen & Marissa Lorusso On this week's All Songs Considered, we have a brilliant collaboration between Bonnie "Prince" Billy, Matt Sweeney and the blistering guitar of the Tuareg musician Mdou Moctar. We've also got the first new song in five years from José González — and for the first time, this Swedish-Argentinian musician sings in Spanish. Then […]
---