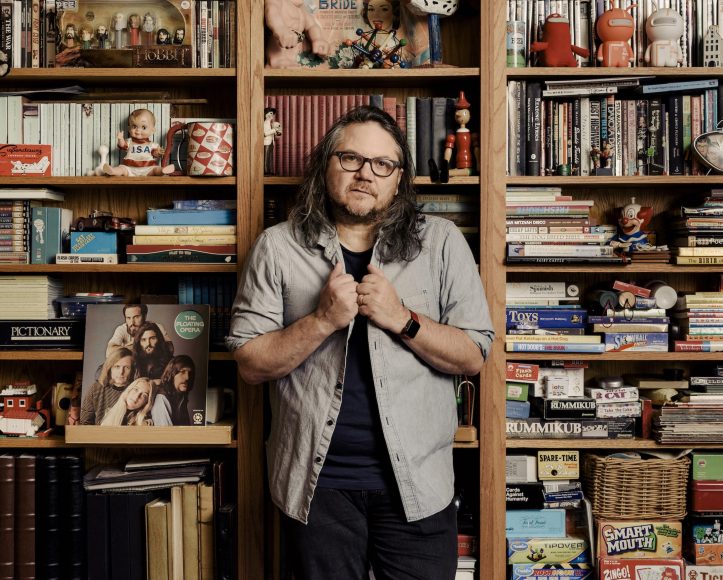 Jeff Tweedy
Biography
Jeff Tweedy has released WARM, a solo album of all new material, on dBpm Records. WARM was produced and recorded entirely by Jeff at Chicago's now legendary studio, The Loft (with help from some of his usual collaborators – Spencer Tweedy, Glenn Kotche and Tom Schick). WARM follows the acoustic retrospective release, Together at Last (2017), and Wilco's 2016 album, Schmilco.
The incredible liner notes for WARM were written by George Saunders and are available to read in full at the New Yorker.
Jeff is currently on a solo tour of North America (tickets are available at wilcoworld.net). His long-awaited memoir, LET'S GO (SO WE CAN GET BACK): A Memoir of Recording and Discording with Wilco, Etc., is out now. In LET'S GO (SO WE CAN GET BACK), Jeff writes candidly and compellingly about his past, his songs, and the people who have inspired him. It's a portrait of an artist in his most reflective and creative state.
---
Video & Press
ICYMI: The Tweedys, Live From the Lavatory

Jeff Tweedy and his sons Sam and Spencer perform the Wilco song "Evergreen" from their bathroom during the coronavirus quarantine.

Watch Jeff Tweedy Perform 'I Know What It's Like' from WARM on Kimmel

Jeff Tweedy performs I Know What It's Like on Jimmy Kimmel Live. Jeff Tweedy's solo tour in support of WARM begins Feb. 27th in Iowa City, IA. Dates and tickets available at www.wilcoworld.net.

On His First Ever Collection of Original Solo Songs, Jeff Tweedy Uncovers Himself Like Never Before

[Pitchfork] Jeff Tweedy WARM 8.3 By Sam Sodomsky Near the beginning of WARM, Jeff Tweedy sings, "What I've been through should matter to you." Coming from the tenderest reaches of his soft, broken tenor, the line is raised more like a question than a command. But he has a point. While Tweedy's songbook in Wilco […]

Jeff Tweedy on Anxiety, Addiction and a Lifetime Making Art

[NPR] By Bob Boilen Jeff Tweedy's written a book that's incredibly open-hearted and honest. Let's Go (So We Can Get Back) A Memoir of Recording and Discording with Wilco, Etc. is a journey in music, friendship and family — from getting his first guitar (which didn't work out so well), to the formation of Uncle […]

The Music That Made Wilco's Jeff Tweedy

[Pitchfork] The 51-year-old rock realist talks about the songs, albums, and artists that have meant the most to him throughout his life—including Missy Elliott, Minutemen, and Amy Winehouse—five years at a time. By Ryan Dombal Jeff Tweedy does not belong here. The windowless Manhattan conference room he's sitting in feels like a cramped holding cell, […]

Jeff Tweedy Talks AND Sings on Colbert

Jeff Tweedy Reveals Reasons Behind Solo Album and Wilco's 'Extended Break'

[Rolling Stone] The songwriter also details his new Woody Guthrie-style anthem "Let's Go Rain" By Patrick Doyle Jeff Tweedy just announced he will be putting out a solo album, WARM, on November 30th, and released a new video for his jangly new song "Some Birds." The video raises questions about Tweedy's hair, and whether he's […]

Jeff Tweedy's New Album 'WARM' Out November 30

Jeff Tweedy's new album, 'WARM,' is out Nov. 30!! Read liner notes by the New Yorker's George Saunders and watch the video for the lead single "Some Birds." AND get an instant download of the tune when you preorder – http://bit.ly/JTWARM
---