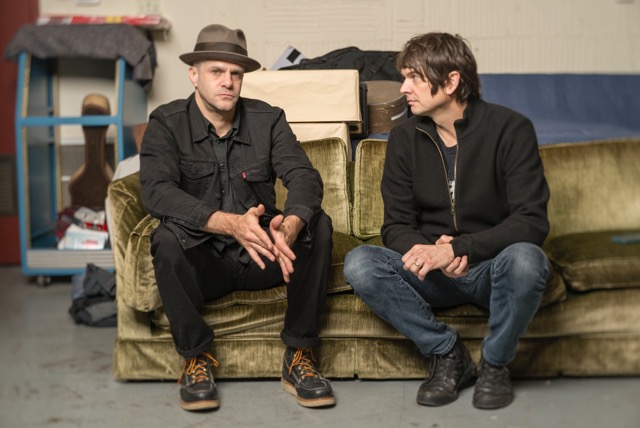 On Fillmore
Biography
This is Happiness of Living: the latest musical transmission from On Fillmore, the long-running duo of percussionist Glenn Kotche (Wilco) and bassist Darin Gray (Tweedy). Carved from an ecstatic multi-day session in Rio de Janeiro, these 11 new tracks, which make up their fourth studio album, move effortlessly between pools of celestial vocals, deep cosmic pockets and occasional pop tunes, to create a glowing mood unlike any previous dispatch from On Fillmore.
Sculpted from eight hours of sessions made with old and new comrade musicians, including esteemed producer Kassin (Caetano Veloso, Arto Lindsay), On Fillmore has invited others into their deepest creative space for the first time with Happiness of Living. Emerging from something deeper than improvisation, the sessions unfolded in a spirit of openness: like the analog tape loops borrowed from Chiara Banfi, married to Kassin; or the voice of Gabriela Riley, girlfriend of percussionist Ste´phane San Juan (Amadou & Mariam); the otherworldly percussion of Mauro Refosco (Atoms for Peace, Red Hot Chili Peppers); or even the words sang by Guillereme Valerio on "Jornada Inteira," who is the brother of their Sao Paulo promoter. The synchronicity of those recordings is evident upon listening to Happiness of Living, from the first touch of thumb piano (kalimba) on album opener, "Pintado."
First visiting Brazil to perform at the 2005 Perc Pan Festival in Salvador and Rio, On Fillmore had what they describe as "a musically life-changing experience." They arrived, laden with mini- discs and effects pedals, to play music from their then-new album Sleeps With Fishes (Quakebasket, 2004), but it was while watching a performance by +2 collective (Domenico, Moreno, Kassin) that something shifted. A friendship with those musicians took root and grew into an ensemble performance later that year at Museum of Contemporary Art in Chicago which, though unrehearsed, remains one of the duo's favorite shows. It opened the door for what continued to grow into Extended Vacation (Dead Oceans, 2009), and eventually becomes fully formed in Happiness of Living.
On Fillmore have always embodied a collaborative spirit, most recently serving as the rhythm section for William Tyler's acclaimed Modern Country (Merge, 2016). On Fillmore formed in 1999 on a plane ride home from performing in London with Jim O'Rourke, and met a few years before while working on O'Rourke's Eureka (Drag City, 1998). On Fillmore has since remained a band without a geographical home: Gray based in St. Louis and Kotche in Chicago (or wherever Wilco's currently at). Since joining Wilco in early 2001, Kotche has become one of the most acclaimed and in-demand percussionists in the world, occupying a musical space at the intersection of pop and experimental music, orbiting within the worlds of classical commissions as well as rock and roll amphitheaters. Gray has worked with a range of underground music heroes, including Loren Connors, Chris Corsano, and Rob Mazurek, in addition to serving as bassist in Tweedy, with Wilco's frontman, Jeff Tweedy, and his son Spencer. In cultivating their long-term friendship and musical partnership, Kotche and Gray's still-unfolding On Fillmore discography showcases a process of exploration that is consistently pushing both musicians beyond the traditional divisions of labor in a bass/percussion duo.
After discovering a new musical place with Extended Vacation in 2009, On Fillmore found themselves with the longing to transform their ongoing musical conversation to a wider specter of possible landscapes. Neither jazz nor Brazilian, not exotica, not free music, nor anything else. If anything, Happiness of Living has On Fillmore in uncharted land. For certain types of music fans, a dream record; the type one might put on and immediately be transported to some place filled with strange creatures and inviting sounds, some place you've never been but maybe find you've been missing. This is Happiness of Living.
---