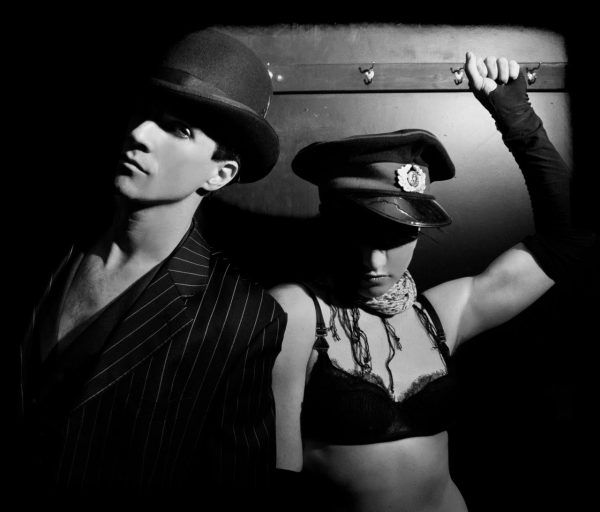 The Dresden Dolls
Biography
The Dresden Dolls
… present…
BRECHTIAN PUNK CABERET
for beginners
We need a type of theatre which not only releases the feelings, insights and impulses possible within the particular historical field of human relations in which the actions takes place, but employs and encourages those thoughts and feelings which help transform the field itself.
Bertolt Brecht
Boy meets girl, so what?
Bertolt Brecht
Once upon a time, a man named Bertolt Brecht created the Epic Theater.
He believed that theater should appeal not to the spectator's feelings but to his reason, while still providing entertainment. In the Realistic Theater of Illusion, he argued, the spectator tended to identify with the characters on stage and become emotionally involved with them rather than being stirred to think about his own life. To encourage the audience to adopt a more critical attitude to what was happening on stage, Brecht developed his "alienation effect" – i.e., the use of anti-illusive techniques to remind the spectators that they are in the theater watching an enactment of reality instead of reality itself . Together with songwriter Kurt Weill, Brecht brought to the stage the classic "Three Penny Opera" – known mostly in modern circles for its devilish hit, "Mac The Knife".
The Dresden Dolls – whose self-dubbed genre gives an ironic nod to Brecht's illusion-destroying stage techniques – have been traveling across the modern stages of America, doling out doses of emotional medicine to a country steeped in doubt, fear and a deep unnamed sadness over the death of authentic musicianship and entertainment.
With songs reminiscent of Kurt Weill infused with the rock n' roll energy of Patti Smith, Nick Cave and The Violent Femmes, this Boston-based duo's home lies somewhere between a Weimar-era cabaret and CBGB's. Just as their name suggests both the utter devastation of a firebombed German city and the delicate femininity and innocence of a porcelain figure, The Dolls' sound ranges from seductive whisper to a full-on assault.
Consisting of songwriter Amanda Palmer (vocals, piano) and Brian Viglione (drums), The Dresden Dolls' confessional story-songs offer listeners the bruised intimacy of a torch singer with all the fury and grit of rock. Palmers's thunderous and shimmering piano style rests on the shoulders of Jerry Lee Lewis and Nina Simone. Vigolone's drumming is sophisticated yet primal, providing in turns a delicate cradle of rhythm and a piercing bed of nails onto which Palmer lays her raw, tragic-comic lyrics.
The star-crossed duo met on Halloween night of 2000 when Vigilone saw Palmer playing solo at a Boston loft party. Amazed by the open-wound honesty and intensity of Palmer's songs and delivery, Vigilone knew that he had found his musical soulmate.
They began by building on Palmer's deep roots in the Boston arts community, rehearsing and performing in the artists' collective where Palmer still lives (also home to filmmaker Michael Pope who directs the band's music video's, comedienne Zea Baker who assists the band with costumes and artwork and The Martin Brothers who designed the bands award-winning website). Palmer supported the band by performing around the world and in Harvard Square as a whitewashed living statue dubbed "The Eight Foot Bride", now a legendary part of Cambridge's artistic lore. Circumventing the local club scene, the band paid its dues in galleries, lofts and salons in Boston and New York, with Palmer often playing impresario at their own multi-media events.
With their fanbase steadily burgeoning, they were ultimately brought to the attention of Boston's rock community when they won the WBCN Rock n' Roll Rumble in May 2003. "That blew the top off of it," says Palmer. "We were a little unsure about what the real world would make of us, but the music is not difficult to grasp. We sing about universal themes that resonate with most people – love, pain, fear, childhood… "
Indeed, even as they gather more mainstream fans, the band has retained an eclectic following of artists and oddballs. The all-encompassing demographic at a Dolls' show is apt to resemble Pepperland from "Yellow Submarine"; with tweed intellectuals swizzling cocktails alongside moshing, trash-and-vaudeville teens.
Propelled by the release of their debut CD (on Palmer's own Eight Foot Records) in September of 2003, the band is now selling out clubs throughout the Northeast – their following rapidly expanding with each riveting live show. Improvisational costumes (Vigilone occasionally shows up in drag) and unexpected antics are de rigeur, and audiences are inevitably moved by the intense on-stage chemistry between Palmer and Viglione, which allows them to play with spontaneity and precision. Vigilone often stops, stock-still waiting for a cue from Palmer's fingers on the piano and comes crashing in with the drama and accuracy of a knife-thrower. But he is far from a puppet on Palmer's strings; the conductor is often ambiguous and fans are often rapt in whiplashes they gleefully absorb this musical Wimbledon.
Like their live set, the Dolls' debut CD – produced by Martin Bisi (Swans, Sonic Youth) – alternately seethes and explodes… often within the same song. A prime example is "Coin Operated Boy", whose skewed nursery-rhyme melody moves from despondent resignation to a desperate plea for true love… all under five minutes. "The narrator tries to come off as flippant and blasé, but the bridge she can't stand it any longer," explains Palmer. "Human beings are complicated little things. I try to present them that way in my songs".
The song's complexity, however, cannot undermine its clever wordplay and ridiculously catchy melody, which has audiences singing along by the second verse. Equally catchy is "Girl Anachronism", an eight-to-the-bar rampage that promises to become an anthem for a generation of neurotic females in the same way Radiohead's "Creep" spoke for a generation of boys with low self-esteem. Even the standard break-up song falls victim to Palmer's lyrical twists. In "The Jeep Song", a girl -group parody that drips with Phil Spector charm, Palmer imagines herself haunted by her ex-boyfriends '96 Cherokee, while the heart wrenching "Truce" casts ex-lovers as opposing generals negotiating the terms of a treaty.
The life of a Dresden Doll is a busy one and the band is already looking forward to it's next release and production of a full-length DVD. They have opened for Beck, The B-52's and Jane's Addiction and have toured the US twice; first with Ka-Spel of The Legendary Pink Dots (one of Palmer's favorite influences) and also with Sleepytime Gorilla Museum (another band known for its psycho-theatrical stage show and costumes).
Their watershed already filled with sparkling new material, the band has been recording with the Boston producer team Sean Slade and Paul Kolderie (of Fort Apache, known best for their work with Hole, and Radiohead). An extensive European Tour is in the works. Palmer, who studied and worked in an avant-garde theater in Germany, is eager to return to the land that gave the band so many of its influences. "I think Europe and the Dolls are made for each other," says Palmer. "After all, didn't Klaus Nomi and Jacques Brel?"
Like most of the artists who have given pop music a refreshing kick in the pants (Elvis, The Beatles, The Sex Pistols), The Dresden Dolls' aesthetic may initially raise some eyebrows, especially since it is missing rock's usual antenna to the Gods: The Guitar. But it seems not to matter. The Dolls continue to attract fans of every musical persuasion, all hungry for music that is authentic, original and emotionally honest.
---