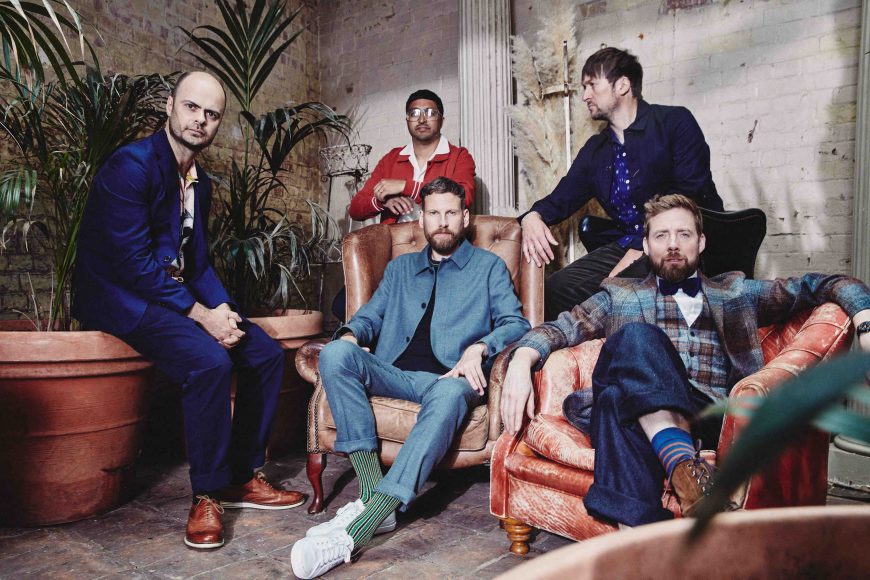 Kaiser Chiefs
Biography
Recently, Ricky Wilson was traveling on the London Underground when he pressed play on a finished mix of the huge new Kaiser Chiefs anthem People Know How To Love One Another. "Shit man, we've done it," the frontman thought to himself. He's still taken by that feeling of triumph, that the band have reclaimed the creative swagger that underpins their best work. "It's undeniably fantastic and undeniably Kaiser Chiefs," says Wilson, exhilarated by the restorative energy at the heart of the quintet's forthcoming new record Duck. "What this album is about is regaining trust in the fact I enjoy what I do. At some point, I'd forgotten that was a big part of it."
Fifteen years into a career that, bar a few bumps in the road, has followed a constant upward trajectory, Wilson, Andrew "Whitey" White (guitar), Simon Rix (bass), Peanut (keyboards) and Vijay Mistry (drums) hit new creative peaks on their seventh record. "It's more exciting than it's ever been," says Wilson. "Every time there's a big obstacle, it just gets blown away in the wind like a dandelion. We're still selling out arenas but under the radar. We can make albums forever."
Duck finds one of the most successful British guitar bands of the millennium connecting the dots, these songs harking back to the everyday explorations and poignant observations of their breakthrough early albums. "We wanted to do something that had a Kaiser Chiefs DNA but still try and do something different," says Rix. "The intention was to make a really Kaiser Chiefs-y record but we've managed to do something that doesn't sound like anything we've done before. It has the right spirit."
The band began writing almost immediately after the release of 2016's Stay Together but it wasn't until the start of 2018 that Duck started to take shape. People Know How To Love One Another led the way, its uplifting mix of radiant melodies and Northern Soul-style grooves setting a sonic template from which they could work. Its message of positivity came from Whitey. "It's the antithesis of Every Day I Love You Less And Less," says Wilson. "The title is a statement – there's no judgement or 'this is how you should live your life', no bravado, it's just, 'this is how it is.' It reminded me of our first record." Rix thinks the world in 2019 needs a song with such a declaration of human warmth. "It's a really important song and a great message for Brexit Britain," says the bassist.
People Know… was the first song they wrote and last they finished, part of a process Wilson says "took a very long time and broke us, totally." "I found it very hard to make," concurs Rix. "We thought we were 90% done but we realised we weren't. That added a bit of pressure."
Working with producer Ben H. Allen, who collaborated with the band on 2014's Education, Education, Education & War, they pulled the songs apart and put them back together again, writing and re-writing, debating what should go in, what should come out. Why release something half-baked, they reasoned, when there was an opportunity to make a definitive record to kick off the next chapter of their career? Back on their old label Polydor, they wanted to impress. "We had something to prove," says Rix. They upped their game, and then upped it again. "I think People Know How To Love One Another is just incredible," says Wilson. "It makes me quite emotional to think about how a band 15 years into their career can write a song that I think defines them. We're not just the Ruby boys. People Know… is bigger than the band and I think that's what all bands are striving for.
Emboldened by the surge of creativity, Wilson found himself writing lyrics with a stark candour, a frankness he'd previously avoided. "It's very real," says the singer. "I reference things actually in my life. For someone who might appear to be a public figure, I'm actually very private. But instead of skirting around the issue, I've just gone for the jugular. Don't try and make it more palatable by making it universal, make it totally personal."
The grand themes of these songs operate at street level, tracks about love, hope and loss, about fatherhood and the warm melancholy of nostalgia. Wilson has always put himself front and centre without ever truly revealing himself. Here he lets the mask slip a little. "We all have difficulties relationship-wise, family-wise, bereavements, and it's all in there," he says. "It's absolutely beautiful."
The jagged riffs and soulful harmonies of Golden Oldies finds Wilson coming to the realisation that he'd like to have children. "It's the idea that there is a purpose to life more than just putting out a record every two years," he says. "I'd rather put out a kid if I can." The brass-heavy stomp of Wait, meanwhile, delves into the media's hypocritical handling of mental health and the superficialities of social media living. "I think we're in a very odd time," says Wilson.
These are songs that deal with the minutiae of modern living at the same time as pulling on a bigger thread: Target Market's tale of love at first sight ("that's me making a speech at a wedding and falling in love with the bridesmaid," says Wilson), the summery, free-spirited Northern Holiday is an ode to Wilson's Grandma, whilst Record Collection is a rumination on the internet as a controlling force. Underneath the big hooks and bigger choruses, Wilson strikes a contemplative figure. The panoramic indie-pop of Lucky Shirt finds the singer musing on the intricate complexities of romance. "I astonished myself with how open that song is," says Wilson. "It's about how I don't know what I'm doing with love but I'll work it out somehow."
Alongside People Know How To Love One Another, The Only Ones is a classic Kaiser Chiefs singalong, all fist-clenched defiance and epic tunefulness. The track came late in the day, the band pushing themselves to write something that would hoist everything else up a level. "I thought we needed one more song to seal the deal, something so undeniably a hit. I think it's spectacular!"
Closer Kurt Vs Frasier (The Battle For Seattle) sums up the looking back-to-move forwards theme that runs through Duck, combining a Kinks-style bounce with a yearning lyric that casts an eye back to youthful exuberance. It ends an album of rediscovery with a gentle elation, an acceptance that Kaiser Chiefs are doing exactly what they should be doing. "We're not going away, we're here," says Wilson. "Bands come and go but we keep releasing records and we'll continue to do so. We find everything comes delightfully easy and immeasurably hard at the same time. We just get on with it." It's the push and pull at their core, the dynamic that keeps one of the UK's biggest bands motoring on. Fifteen years into their career, they've found another gear.
---