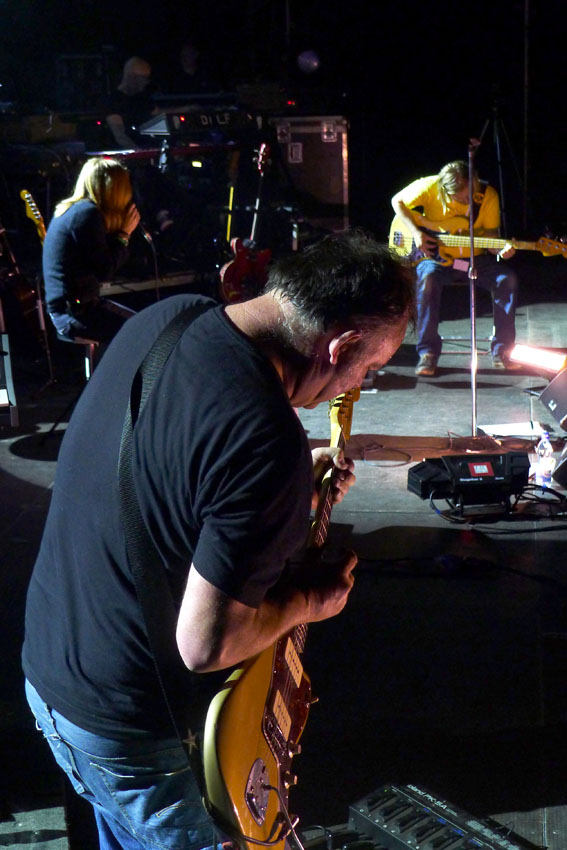 Portishead
Biography
"…music…for people who want to utterly pulverize boredom."
-Sasha Frere-Jones, New Yorker
Nobody sounds like Portishead. The progression of their albums has clearly established their uncompromising stance towards their future. For the first time since 1998, Portishead announce their North American tour this October 2011.
Portishead kick off their tour at this year's All Tomorrow's Parties presentation, I'll Be Your Mirror Saturday October 1 & Sunday October 2 taking place in Asbury Park, N.J. Portishead co-curated these two days of the 3 day festival. According to Adrian Utley, "We've always thought that we must come back to tour in the states, something we wanted to do with the release of Third, but our schedule just wouldn't allow it. Being that we were asked to curate I'll be your Mirror, this just seemed like a good start to touring the states – it set's it off in absolutely the right way. We are absolutely delighted to come back."
Following ATP, Portishead will take the stage at New York City's Hammerstein Ballroom for two nights, followed by shows in Montreal, Toronto, Chicago, Mexico, two nights in Los Angeles, San Francisco, Seattle, Vancouver. The tour ends in Denver on October 27th.
After an 11- year hiatus, Portishead's album Third, the long-awaited follow up to their 1997 self-titled release, debuted at #7 on the Billboard Top 200 Album Chart, received rave reviews and has been hailed as an "unexpected yet totally impressive return" by Rolling Stone Magazine, and "Worth the wait" by Newsweek. "'Third' is more polymorphous, more extreme, more propulsive and often harsher than previous Portishead albums" claimed New York Times. "…anyone can make abrasive music, but few can do something new and compelling with apocalyptic heaviness" wrote Spin Magazine.
Following Third's release, Portishead made their only U.S. performance on April 26th at the Coachella Music Festival after an invite only private rehearsal at LA's Mayan Theater. "Beth Gibbons and Co. delivered bigtime, turning out stirring new songs from their first album in more than a decade. The band's warm peels of sound moved across the field like an aural massage, the six touring members locked in together with incredible precision, every turntable scratch and haunting synth gorgeously amplified," praised Rolling Stone. Appropriately Portishead ended their set with "Thanks for waiting."
Joining Beth Gibbons, Geoff Barrow and Adrian Utley on stage are Jim Barr (bass), Clive Deamer (drums), and John Baggott (keyboards).
Support for Portishead on this tour is THOUGHT FORMS.
---
Video & Press
Watch Portishead Perform Live for the First Time Since 2015

[NME] The band's first set in seven years took place as part of War Child UK's Ukraine benefit concert alongside IDLES, Billy Nomates and more By Alex Gallagher Portishead performed live last night (May 2) for the first time in seven years as part of a War Child UK benefit gig for Ukraine at O2 Academy […]

Portishead's 'Dummy' Is 25. The Band Asks That You Play It Loud.

[New York Times] The trip-hop classic was an unexpected success in 1994. Geoff Barrow and Adrian Utley look back at its creation and explain how they think it should be heard. By Christopher R. Weingarten In the summer of 1994, when American alternative rock kids were kicking up mud to Nine Inch Nails and Green Day, "Dummy," […]
---