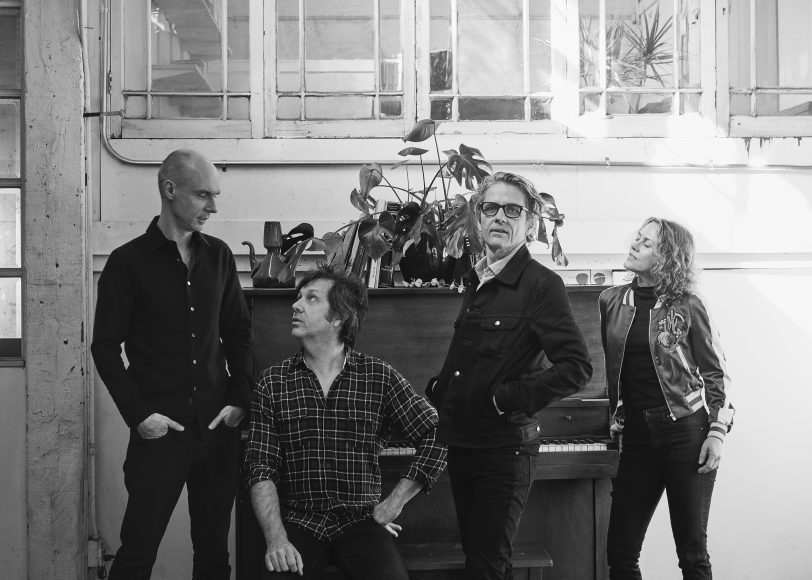 Luna
Biography
Luna was a New York band formed in 1991 by singer/guitarist Dean Wareham after the breakup of Galaxie 500. The band made seven studio albums before disbanding in 2005. After a ten-year break, they reunited and toured in 2015, and in 2017 released a new LP — A Sentimental Education and an EP of instrumentals — A Place of Greater Safety.
Other recent reissues include a deluxe 2xLP version of their classic Penthouse album (on Rhino) and another 2xLP set Lunafied that collects all the covers the band record-ed in the 1990s.
Now scattered around the country (Los Angeles, New York and Austin) the band re-tains the same lineup that operated from 1999 to 2005: Dean Wareham on vo-cals/guitar, his wife Britta Phillips on bass, Sean Eden on guitar, and Lee Wall on drums.
A Luna Timeline:
1992. Dean Wareham recruits Justin Harwood (ex-Chills) on bass and Stanley Demeski (ex-Feelies) on drums to record Lunapark for Elektra Records. After completing the al-bum, the band places an ad in the Village Voice and thus adds Sean Eden on guitar. Eden, who is Canadian by birth and a trained actor, plays lead guitar on the excellent Indian Summer EP (aka the Slide EP).
1993. The band records their second album, Bewitched, featuring "California," "Tiger Lily" and "Friendly Advice."
1995 Luna's classic third album, Penthouse (1995) is recorded in New York City, fea-turing guests Tom Verlaine (Television) and Laetitia Sadier (Stereolab). The band signs to Beggar's Banquet in Europe. Rolling Stone calls it "one of the essential recordings of the '90s"
1997 Lee Wall replaces the travel-weary Stanley Demeski on drums, and the band rec-ords Pup Tent, their fourth album for Elektra.
1998 Luna recorded their fifth album The Days of Our Nights.
1999 Justin Harwood moves back to his home country (New Zealand), and is replaced on bass by Britta Phillips.
2000 finding themselves between contracts, the band quickly records a live album — Luna Live! for the Arena Rock label.
2002 the band sign to Jetset Records, record Romantica, co-produced by Gene Holder (DB's) and Dave Fridmann (Mercury Rev). Romantica was followed by the mini-LP Close Cover Before Striking.
2004 Luna record their Rendezvous album in Brooklyn, NY. Produced by Bryce Gog-gin with minimal overdubs, it captures the band more-or-less live.
2005 After a farewell tour, on February 28 the band play their last show at New York's Bowery Ballroom.
2015 After ten years away, the band announces a commemorative world tour. The lineup is the exact '99-'05 group: Dean Wareham and Sean Eden on guitar, Lee Wall on drums, and Britta Phillips (now married to Mr Wareham) on bass.
2016 Captured Tracks label release a vinyl box set comprising Luna's five albums rec-orded for Elektra and a bonus LP of rarities.
2017 Double Feature Records release the band's first new material since 2004, the co-vers LP A Sentimental Education and instrumental EP A Place of Greater Safety.
2018 Run-Out-Groove releases the double LP Lunafied — containing all the covers the band recorded during the 1990s.
At their best, it's hard to believe there is any other kind of music besides this simple, graceful, chiming chug — the Guardian
Dean Wareham has an unlikely quiver of a voice that, for whatever ungodly reason, sounds as if he's survived something his music alludes to but never gives away — Jerry Stahl
One of indie rocks' most beloved live acts — Rob Sheffield, Rolling Stone
---