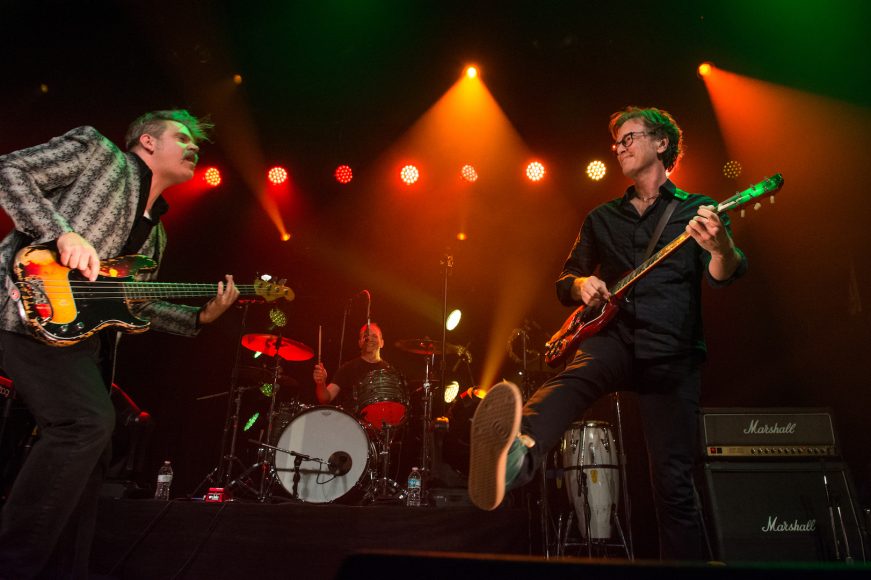 Semisonic
Biography
Over the last twenty years, Semisonic frontman Dan Wilson has written songs with just about everyone: Adele, Taylor Swift, John Legend, Leon Bridges, Halsey, Andrew Bird, Panic! At The Disco, Chris Stapleton, My Morning Jacket, Florence + The Machine, The Dixie Chicks—the list goes on and on. The only band he wasn't writing for, it seems, was Semisonic.
"Every so often I'd sit down and try to write a Semisonic song, but it just wouldn't come out sounding right," says Wilson, who co-founded the seminal Minneapolis group with bassist John Munson and drummer Jacob Slichter in 1995. "It was almost like I couldn't remember how to be that guy anymore."
With 'You're Not Alone,' Semisonic's first new studio release in nearly two decades, Wilson and his bandmates have finally cracked the code, sounding more vital, more dynamic, and more like themselves than ever before. Recorded on and off over the last few years at Wilson's Los Angeles studio, the EP is pure Semisonic in all its ragged, rousing glory, fueled by lean arrangements and muscular performances of poignant, bittersweet, alt-rock gems. The songs here are eerily prescient, reflecting on isolation, connection, and resilience in the face of change. Though they pre-date the current landscape of lockdowns and social distancing, they feel tailor-made for the times, mixing hope and nostalgia in equal measure. The music's relentless buoyancy is due in no small part to Wilson's profound melodic gifts, which, along with his immediately recognizable tenor, are front and center in these songs. But Semisonic has always been a band in the truest sense of the word, and 'You're Not Alone' is above all a testament to the trio's enduring chemistry, which has only grown more potent and self-assured with time.
"John and Jake and I, we're not chameleons," "says Wilson. "We can't sound like anybody else. We can only sound like ourselves. When we play together, it just immediately feels a certain way because that's who we are and that's what this band is. We're an ensemble, and it's the best ensemble I've ever been a part of."
Born from the ashes of the influential Twin Cities band Trip Shakespeare, Semisonic first emerged to international acclaim with their 1996 debut, 'Great Divide.' While the album was a critical hit (Rolling Stone called it "a record of simple but sparkling modern pop, rattling with power-trio vitality"), the group's commercial breakthrough didn't arrive until the 1998 release of their sophomore album, 'Feeling Strangely Fine,' which went platinum on the strength of its chart-topping lead single, "Closing Time." Nominated for a GRAMMY, the track was a radio juggernaut that landed in countless film and television soundtracks and would come to define the sound of an entire decade of rock and roll.
"We released one more album after that," says Wilson, "and by the time we finished touring it, we'd been playing together for almost ten years. We'd shared highs and lows, joy and despair, hard slogs and victory laps, and in the end, we were just worn out."
So, without ever actually breaking up, the band decided to go their separate ways. Slichter became a celebrated writer and commentator, contributing to the New York Times and NPR in addition to earning widespread praise for his 2004 memoir, So You Wanna Be a Rock & Roll Star. He would go on to join the faculty at Sarah Lawrence, where he currently teaches creative nonfiction. Munson, meanwhile, continued to make his career in music, performing and recording regularly with a variety of bands including The Twilight Hours, The Fragrants, and The New Standards, whose annual holiday show has been a Minneapolis staple for the last 15 years. A lifelong lover of radio, he became the Music Director for American Public Media's WITS and could often be found guest hosting on Minnesota Public Radio's The Current.
Wilson, on the other hand, moved to Los Angeles and became a first-call writer and producer, one lauded by the LA Times as penning "some of the era's great contemporary smashes." He took home an Album of the Year GRAMMY for Adele's '21,' which featured three of his co-writes (including "Someone Like You"); landed a Song of the Year GRAMMY for "Not Ready To Make Nice," one of six tracks he co-wrote on the Dixie Chicks' 'Taking The Long Way'; and saw songs he's written or co-written (including "Water Fountain," his recent hit with Alec Benjamin) combine to rack up more than a billion streams on Spotify. At the same time, Wilson also established himself as a critically acclaimed solo artist, releasing a series of albums under his own name that found him working in the studio with everyone from Rick Rubin and Sheryl Crow to Sara Bareilles and Nickel Creek's Sean and Sara Watkins. After releasing his most recent record, a reimagining of tunes he'd written with others entitled 'Re-Covered,' Wilson launched a singles series in the fall of 2018, opting to put out a new song every month in lieu of recording another traditional album.
"Working with such a wide range of artists on top of my own solo career, I never had the luxury of getting set in my stylistic ways," says Wilson, who frequently shares his songwriting wisdom in the popular online series "Words & Music In 6 Seconds." "If I didn't have all these other outlets, I could imagine just keeping my '90s alt-rock flame alive all this time through sheer isolation, but I've been growing and changing through working with so many other people, just as Jake and John have."
All that growth and change left Wilson unsure if he could ever write for Semisonic again. Though he and his bandmates remained close and continued to periodically reunite for one-offs and charity performances, new music simply wasn't coming. Then, Liam Gallagher showed up.
"Liam's one of my favorite singers ever, and I was thrilled when he came over to the house with his manager," says Wilson. "They told me, 'If you come up with any songs for Liam to sing, let us know,' so over the next few weeks, I wrote a bunch of tracks with him in mind. He ended up having everything he needed for his album already, but I realized that the stuff I was writing sounded a lot like Semisonic. It was this weird light bulb moment where I was able to get back in touch with my mid-90s self, and suddenly I was writing all of these Semisonic songs for the first time in decades."
Starting in 2017, Wilson began inviting the band to LA for sporadic recording sessions where they'd tackle the new material raw and live in the studio. Though it had been two decades since they last recorded together, things clicked back into place almost immediately, and the trio found a productive rhythm of short but intense bursts of creative alchemy.
"We all have our own careers and lives and families now," says Slichter, "so the constraints of our calendars enforced a kind of ruthless focus. We knew if we didn't figure out how to render a given song, we'd have to wait six months to try it again."
That focus is immediately clear on the utterly addictive opening track, "You're Not Alone." A moving reflection on our shared mortality and the interconnectedness of all things, the song feels like a perfect power-pop anthem for the times, and it serves as an ideal entryway into a collection that, in classic Semisonic fashion, is sweetly sad and defiantly optimistic all at once. The stirring "All It Would Take" embraces the power we have to shape the world around us, while the grungy "Lightning" chases the singular high of human contact. "Don't Make Up Your Mind" desperately reaches into the void for a hand to hold, while "Basement Tapes" looks back on the carefree camaraderie of the of the band's early days. "So we tool down to Kansas City to sleep on a sofa," Wilson sings, "and we're cool temporarily cos we're from Minnesota." It's a fond, playful recounting of a time that seems impossibly simple in retrospect, a welcome reminder that no matter where we go or how much things change, the bonds of love and friendship endure.
"I think these songs have a really important and relevant story to tell," says Munson. "They embody this spirit of optimism about the possibility we can offer each other in times of hardship and struggle. I've always believed that a Semisonic song is one that gives you hope, one that sends you out into the night happy, one that leaves you feeling more connected to whatever it is that makes you human, and that's something we need now more than ever."
Life may be strange and the future uncertain, but with Semisonic back in action, one thing's for sure: you're not alone. None of us are.
---
Video & Press
The NY Times Recommends the "Song Exploder" Episode Featuring Dan Wilson Talking About Semisonic Hit "Closing Time" on Their Podcast Playlist 'To Help Distract You (For The Most Part)'

[New York Times] By Phoebe Lett As you shelter in place or take other measures to help stop the spread of the coronavirus, you may find yourself with silence to fill. And though podcasts are famously calibrated for a commuter's journey, there are plenty out there to help pass the time and calm you at home, […]

Semisonic Announce Old-School Reunion EP 'You're Not Alone'

'You're Not Alone' will arrive on September 18 and mark Semisonic's first release since 2001. Steven Cohen* Roughly two decades after they broke up, the Minneapolis power-pop trio of "Closing Time" fame are back [Rolling Stone] ByDAVID BROWNE Comparisons between Led Zeppelin and Semisonic — the alt-pop band best known for the rousing 1998 hit "Closing Time" […]
---