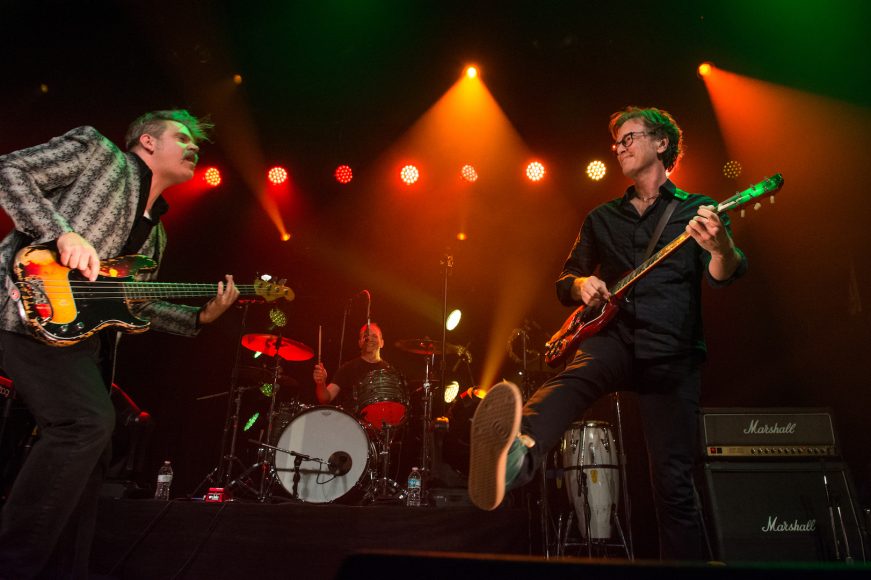 Semisonic
Biography
Semisonic is a rock band from Minneapolis, Minnesota, consisting of Dan Wilson (lead vocals, guitar, keyboards), John Munson (bass, keyboards, backing vocals, guitar), and Jacob Slichter (drums, percussion, keyboards, backing vocals).
Born from the ashes of the influential Twin Cities band Trip Shakespeare in 1995, Semisonic first emerged to international acclaim with their 1996 debut, 'Great Divide.' While the album was a critical hit (Rolling Stone called it "a record of simple but sparkling modern pop, rattling with power-trio vitality"), the group's commercial breakthrough didn't arrive until the 1998 release of their sophomore album, 'Feeling Strangely Fine,' which went platinum on the strength of its chart-topping lead single, "Closing Time." Nominated for a GRAMMY, the track was a radio juggernaut that landed in countless film and television soundtracks and would come to define the sound of an entire decade of rock and roll. The band's international career also blossomed when another song from the album, "Secret Smile", quickly became a UK radio favorite in the summer of 1999, eventually peaking at No. 12 on the UK Singles Chart.
Though the band never officially broke up, they parted ways in the early 2000s, remaining close and periodically reuniting for one-offs and charity performances over the years. In the years since, Wilson became a GRAMMY-winning writer and producer known for his work with Adele, Taylor Swift, Leon Bridges, Mitski, Chris Stapleton, The Chicks and countless others. As a prolific solo artist, Wilson has released three solo albums, two EPs, and more than 20 standalone singles. In 2020, Wilson released his 'Words + Music in 6 Seconds' card deck that spawned from his popular 'Words + Music in 6 Seconds' instagram series.
In 2020, Semisonic reunited to release their first music in 20 years – an EP entitled You're Not Alone with a single of the same name. The song was embraced by Rolling Stone, SPIN, Stereogum and Consequence of Sound, who said, "Like their greatest hits of yesteryear, the track is dosed in slick distortion, the kind that gels beautifully underneath the vocals of singer-songwriter Dan Wilson."
---