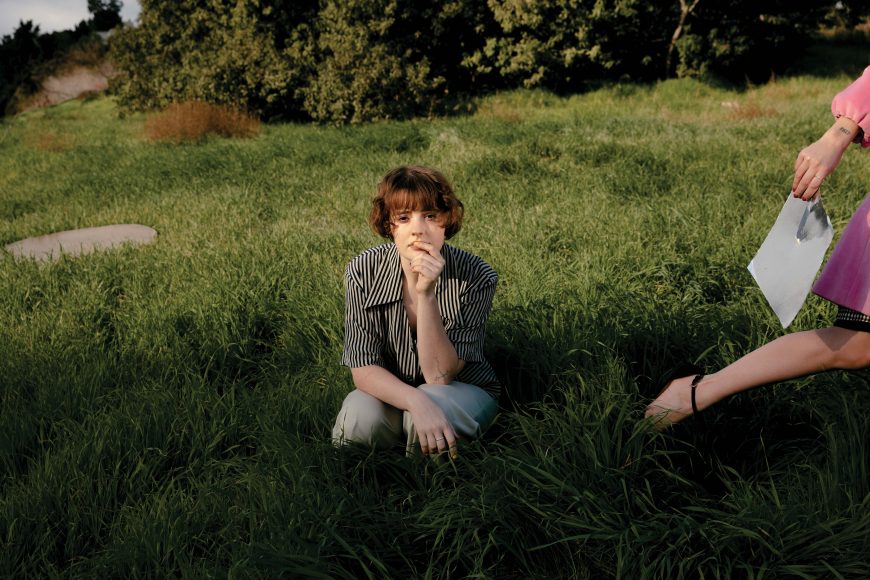 Madeline Kenney
Biography
Oakland's Madeline Kenney bounds toward the unknown on her iridescent third album, Sucker's Lunch. The songs swell and lament, expanding the idea of a love song into something more grounded in self-awareness and philosophy than blind devotion. Sucker's Lunch is the follow-up to 2018's critically acclaimed Perfect Shapes, which Pitchfork described as Kenney "stepping onto the pedestal of her own design." Her sonic world is that of colorful harmonies, dramatic lyrics, and thick layers of guitar, having shifted and become more astute in this most recent work.
Kenney has a history of fostering collaborative recording and touring relationships, notably working on projects of her own with both Wye Oak and Toro y Moi. Jenn Wasner (Wye Oak) and Kenney first collaborated on Perfect Shapes in 2018, and they teamed up again for Sucker's Lunch, with Wye Oak and Kenney as co-producers. Chaz Bundick of Toro y Moi produced Kenney's Signals EP and debut record Night Night At The First Landing, putting both out on his label, Company Records. Kenney has also lent vocals on multiple Toro Y Moi projects, including 2017's Boo Boo. In 2019 she released the split EP, The Sisters / Helpless in collaboration with Flock of Dimes (Wasner's solo project). With a keen eye for visual narrative, Kenney also has provided direction for music videos for artists including Hand Habits, Boy Scouts, and A.O. Gerber.
Usually not one to write devotional love songs, a twist in circumstance found Kenney falling head first into love and music as if they were one and the same. The ten songs that comprise Sucker's Lunch came together swiftly and decisively, often in bursts when Kenney was alone and gently losing her mind in her former home in Durham, NC. Between tours with Soccer Mommy, Wye Oak, Jay Som and Lord Huron, Kenney wrote and recorded Sucker's Lunch in Durham, NC and Oakland, CA, finishing the album in a few compact sessions. The resulting record is a dedication to the rewards that supposed "foolishness" — in art, love, and music — can bring. Kenney's determined visual sense for storytelling came into play in the direction of both the cover image and the accompanying music videos.
With every project Kenney pursues, she continues to shine in her ability to speak the strange, ambiguous, impossible truths — and Sucker's Lunch is no exception, providing us with nothing less than a balanced meal for the wise fool in us all.
---
Video & Press
NPR Music's No. 1 Albums And Songs Of July: Madeline Kenney

[NPR] The musical tastes of the NPR Music crew are a delightful jumble. On this edition of All Songs Considered, we pick our favorite music released in July 2020, featuring everything from Madeline Kenney's bummer indie-rock and Nubya Garcia's dubby jazz to Taylor Swift's Aaron Dessner-assisted Folklore and pianist Christian Sands' take on a classic-rock song from 1969. — Bob Boilen Madeline Kenney: "White […]

Madeline Kenney Shares the Origins of New Single 'Double Hearted': Stream

[Consequence of Sound] Off her forthcoming Wye Oak-produced album Sucker's Lunch BY BEN KAYE In our new music feature Origins, musicians take listeners behind the inspiration behind their latest single. Today, Madeline Kenney reveals the beat behind "Double Hearted". Next month, Madeline Kenney will return with her third full-length album, Sucker's Lunch. Co-produced by Wye Oak's Jenn Wasner and Andy […]

Madeline Kenney – COVID-19 Quarantine Artist Check In

"The government's quick and militant response to Black Lives Matter protests versus the slow and ineffective response to COVID-19 really has shown where their priorities lie." [Under The Radar] By Mark Redfern We are checking in with musicians during the COVID-19 coronavirus pandemic to see how they are dealing with everything. What has their home […]

Madeline Kenney Announces Sucker's Lunch With a Song About Failure

"Sucker" is the first single from Kenney's third album in four years, due out via Carpark Records on July 31. [Fader] By ALEX ROBERT ROSS [Fader] The Oakland-based singer-songwriter Madeline Kenney says in a press statement that she spent a lot of time talking to friends about "the theme of the idiot" while writing her new album Sucker's Lunch. […]
---