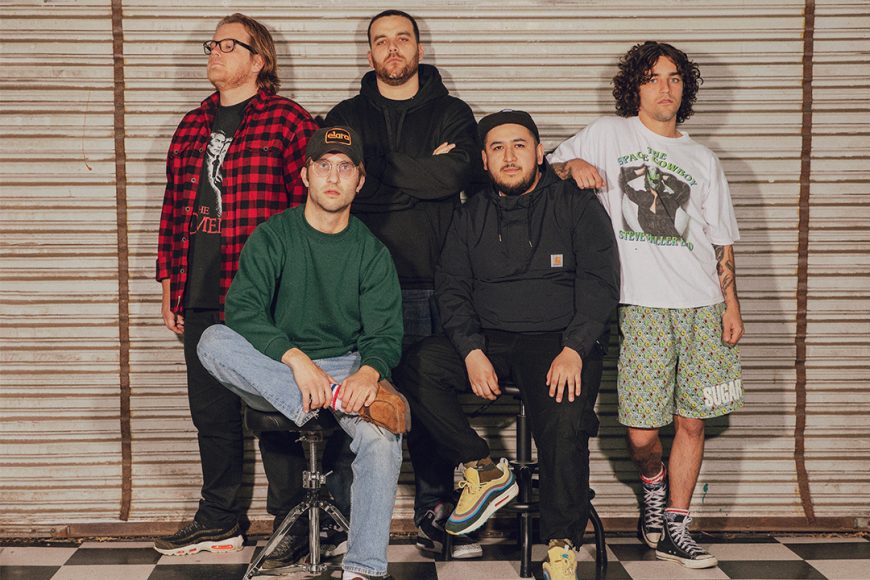 Fury
Biography
On December 31, 2016, a poem was recited at a party in Australia to a small group of friends at the stroke of midnight. Penned a few hours earlier, it was both a lamentation and a critique, inspired by the disturbing and disorienting events of the preceding year, which, like all of history's worst moments, had created a radical new context for all art to come.
While that poem was being recited, Fury, the hardcore band from Orange County, California, was playing in Berlin, some 10 time zones and 10,000 miles away. The band —singer Jeremy Stith, lead guitarist Madison Woodward, rhythm guitarist Alfredo Guiterrez, bassist Daniel Samayoa, and drummer Alex Samayoa — was probably disheveled, their T-shirts wrinkled, their hair slightly undone. I wouldn't know, I wasn't there. But having seen the band many times, I'd bet that Stith spoke with his elbows out between songs,expressing with unmatched earnestness his love for any number of people and things; that the band sounded tight in spite of their being in constant motion and of the stagedivers who were probably stepping on pedals and unplugging cables; and that after the set everyone there would have been willing to believe that the new year could be better than the last. Fury finished their tour about a week later, returning home suspecting they had more to say and would write another record. They also came home with a poem in mind that would guide their way, one recited a week before In Australia, at a small gathering of friends, at least one of whom had sent Stith the transcript. "The poem sparked something in me like white heat," he said.
Forming in 2014, Fury established themselves quickly, releasing both a demo on Washington, D.C.'s Mosher Delight Records and the "Kingdom Come" EP on Boston's Triple B Records in the same calendar year. They built on the melodic legacy of Orange County by way of heavy, rhythmic, start-stop guitars and Stith's wordy and referential lyrics. Then, in 2016, came their debut LP on Triple B Records, "Paramount," which was met with respect from the hardcore community and praise from outsider critics.
Now, two New Year's Eves later, Fury releases "Failed Entertainment," their sophomore LP and debut with Boston-based Run For Cover Records. As with their previous records, "Failed Entertainment" was recorded by Colin Knight and their own guitarist Madison Woodward at Paradise Records, in Anaheim. This time, though, the band also sought new surroundings and outside expertise, collaborating with engineer Andrew Oswald at Secret Bathroom Studios, as well as mixing engineer Jack Endino (Nirvana, Soundgarden, Seaweed). The new batch of songs shows growth in all directions: the slow parts more brooding, the melodies catchier, the lyrics out even further on the limb. From the hammer-ons at the beginning of "Angels Over Berlin" to the tambourine on "Crazy Horses Run Free," Fury complements their past without complicating their understanding of their present, keeping their feet firmly planted in hardcore while bringing in complementary influences, from literature to film to myriad bands and visual artists. The songs are littered with nods to lines that Stith said "sparked or reaffirmed whatever it was I was going through/thinking about."
"Failed Entertainment" documents the work, both personal and creative, undertaken since the release of "Paramount," a period of time marked by as many difficulties as successes. Stith said, "I've asked myself 'Why have I done this?' and 'Why do I continue to do this?' more times in the last two years than the rest of my life combined." Those eternal, existential questions form the thematic foundation of the new songs, which look past the superficial concerns about status and popularity that preoccupy so many musicians, focusing instead on life's inevitable, inescapable problems and the ways in which they can be compounded by the banal realities of art-making — the isolation of being on tour, the pressure of being expected to somehow transform that universal angst into nice, catchy songs that provide simple lessons. "I wanted a record about failure and acceptance of unknowingness, how necessary they are for growth. I wanted to reflect duality and greyness, the spectrums of life. Never black or white, always more to the story, never too much context."
At first, the record feels bleak as Stith sings the daunting opening lines: "The grey is clear, but too cold to continue / No / Not there / Here." But the fatalism proposed by those words never actualizes. Instead, there is a yearning for connection and understanding alongside a belief that, even under tremendously dour circumstance, hope for redemption can still be exist. As Stith sings on "Birds of Paradise: "Done pretending that it's all out of reach / Unafraid for the day we die / Found a way to clip my wings and fly."
What finally emerges is nothing less than Fury's take on the human experience, an attempt to describe every person's life and how it interacts with others through unmatched highs, desperate lows, and mundane middles. And it all comes to a head on the penultimate track, "New Years Eve (Melbourne)," a group recitation of the very poem recited in earnest among friends that night in Australia. Though the idea that the human experience is something that can be understood and labeled is either right on the nose or too grandiose. But to Stith, the goal was to fit every last drop of humanity in between the grooves of the record, and that's where the success and failure of this entertainment lies. "I'll never be able to communicate every single thought and feeling," says Stith "a Failed Entertainment."
Bio by Edward Russin
---