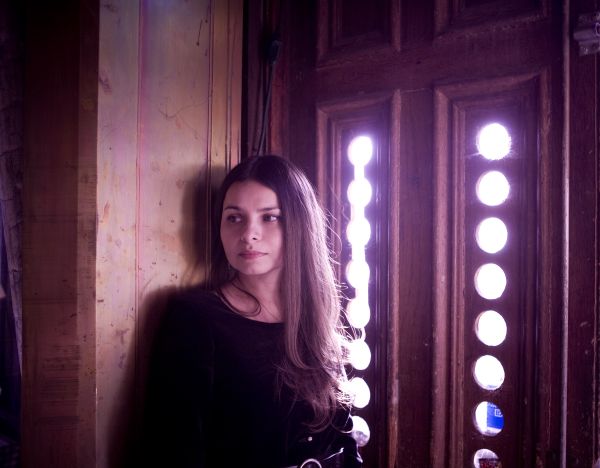 Hope Sandoval
Biography
Through The Devil Softly
The delicious dichotomy between darkness and light, the space between inspiration and the manifestation of thought, is where Hope Sandoval's music and lyrics catch fire. Through The Devil Softly, her second album with Warm Inventions partner Colm Ó C"osóig (My Bloody Valentine), is a rich brocade of pastoral meditations that resonate with the kind of restrained yet provocative intimacy that only these two artists can provide. Well known for their reticence in the media, they've once again chosen to pour out their hearts and minds on record.
It's been eight years since the release of the critically acclaimed Bavarian Fruit Bread, but Colm and Hope aren't ones to adhere to traditional timetables and conventions. "Time is vibrations for us," he says. "We didn't feel like [this album] was ready until it was ready." In the meantime, however, neither artist has been creatively idle. Hope has collaborated with Devendra Banhart, Air, Bert Jansch, Death In Vegas, and is due to appear on Massive Attack's forthcoming album. And yes, a new Mazzy Star record is on the horizon. ("It's almost finished," says Hope, "but when it will be coming out, I don't know.") Meanwhile, 2009 saw the reunion of My Bloody Valentine for a select group of live shows, kicking off with an incendiary performance at this year's Coachella Festival.
"It's like the opposite ends of the spectrum," says Ó C"osóig of the difference between MBV and his work with Sandoval. "I play very held back, but there's a tension to it."
Written and recorded over the past two years in both Northern California and the Wicklow Mountains of southeast Ireland, Through The Devil Softly sees Sandoval and Ó C"osóig sharing production and engineering credits, with Dave Trumfio (Wilco, The Rentals) and Jim Putnam of the Radar Brothers assisting in the mix. Other guests of note include Mazzy Star keyboardist Suki Ewers and cellist Ji Young Moon, who provides the solo on the sublime "Thinking Like That." But the album's most broad brush addition comes courtesy of Ireland's Dirt Blue Gene, the group who tracked the recordings with Sandoval and Ó C"osóig, and will accompany them on their upcoming tour. While the simplicity of "Lady Jessica and Sam" and the bucolic beauty of "Fall Aside" represent one facet of the record, Dirt Blue Gene help inject an undulating, sultry swagger into songs like "Trouble" and "For The Rest Of Your Life" that compliments the album's more delicate passages. Elsewhere, autoharps, vibraphones, slide guitars, and crystalline bell chimes flicker across the tape heads like shadows, used so sparingly at times that their sound is barely audible above Hope's hushed inflection. On "There's A Willow," her verses are carried on the back of a simple, singular cymbal, cresting and falling like ocean waves. Meandering guitar and harmonica parts waltz together like old lovers, while the distant knocking of a solitary woodblock and the tapping of a tom provide the only cadence. "I merely standing on holes in the ground. If I fall, well they'll never know I'm found," she coos on "Banchard." Later she muses, "I play death in the space of my life. That's how I feel, and I never think it twice," and you're left to wonder if she's ruminating on her own taciturn nature. As with the album's title, the words are not there to be explained. They're to be felt and interpreted. The mystery is magnetic.
"We just make music for ourselves," says Colm. "We don't really pay attention to what's going on in the big world when it comes to pop music or anything."
Anyone whose seen Sandoval perform live, either with Mazzy Star or the Warm Inventions, can attest to that intimacy. Often shrouded in low light, she rarely communicates with the crowd outside the boundaries of a song. "I go into myself, close myself off," says Hope of her relationship with audiences. "But I do know that they're there."
Rife with lush sonics and textures, Through The Devil Softly is a deliberate body of work that gently solicits your patience, and like the cover photograph, it's creators reveal very little so that the art can reveal so much.
---