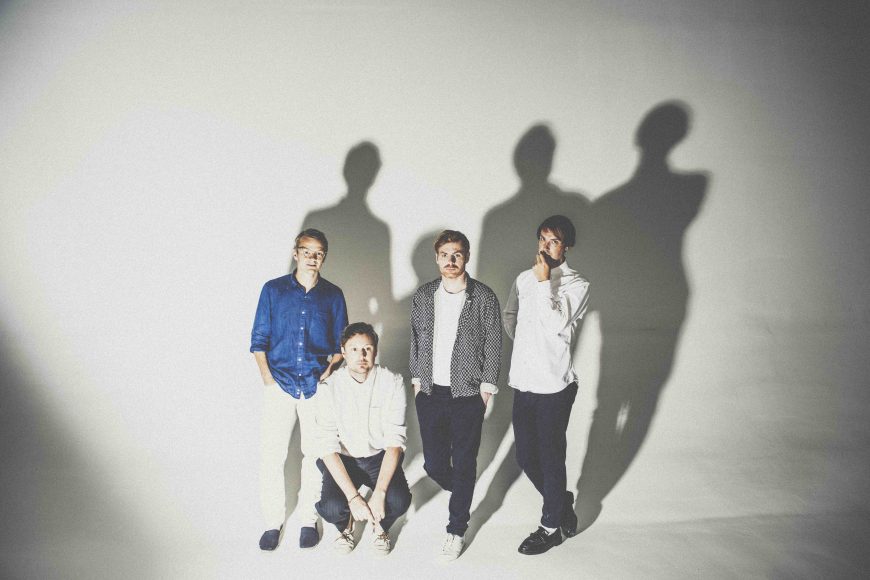 Django Django
Biography
Django Django's new album Glowing in the Dark has a running theme of escape: from constraints, from despair, from small town life, and even, in dreams, from the Earth. But that's not something new: the band's entire career has essentially been about evading, eluding and growing beyond things: beyond scenes, sounds, expectations, influences, even their own perception of themselves. "We only ever foresaw ourselves being a weird little cult band," says Northern Irish singer/guitarist Vinny Neff; "with just a core audience. We never thought four albums in we'd be playing big festivals. But it's happened and we've gone with it."
The ambitions might have been small, but the thoughtful, sometimes oblique, Neff and the rather more direct and garrulous Dundee born and bred Dave McLean had faith in their cult project from its humble beginnings, coming gradually to life in a primordial soup of influences. Both were raised on the musical diversity of the early 90s, when as Vinny says, his older sisters and their peers could "listen to indie bands in the day, then go raving at [revered rave den] Kelly's in Portrush", and hardcore rave was "something you might hear when a teacher puts a tape on in the bus for a school trip."
It was this duo that would create the songs that became the self-titled debut album in 2012 – bringing together obscure garage rock and gentle electropop, those harmony vocals and Sergio Leone atmospherics – but keyboardist Tommy Grace and bassist Jimmy Dixon were already in their orbit, and quickly became full time members. They were living in Dalston: "loads of warehouse parties, loads of people in funny specs, loads of cool kids," as Dave puts it.
It's natural they only expected cult success given this, but their debut did better with critics and fans alike than they'd imagined, and the Mercury Prize nomination and big gigs followed quickly. Obviously they stepped up to the challenge, but – crucially – they never became overly slick, and they never settled into one groove. It was a time when bands – Metronomy, Hot Chip, Friendly Fires, Wild Beasts – were able to each combine their own influences without adhering to any orthodoxy, and Django Django managed this spectacularly. Which while it may have baffled some, gathered them a diverse following.
Since then it has not been exactly plain sailing – after all, what is? They've had to meet the demands of indie audiences, club crowds and all points in between. Yet Django Django have been extraordinarily consistent, and talk about what they do with great confidence. They constantly learn on the road: indeed several tracks for Glowing in the Dark were written specifically to fit precise junctures in their set (which is, as Vinny says, already crafted "to draw a line of links from acoustic stuff through the electronic, rhythmic thing, through to something more raucous and rockabilly").
And they learn in the studio too: the home-made Django Django was followed by Born Under Saturn which saw them exploring every option in a big "proper" studio. Marble Skies then saw a more back to basics approach, with the addition of Anna Prior of Metronomy on distinctive driving drums, and now Glowing marks another shift again. With the members no longer living close by one another, they went through a process of making the most of time together, arranging and recording a song a day, adding a new "lightness" to the process.
And that "lightness" is there from the start of the album. "Spirals" begins on elegant circling synths that grow into a never-more-relevant anthem to hope, using the image of DNA to muse on "the connections we have as humans being stronger than the divisions." One of the tracks specifically written as part of the live set, its dynamics are galvanising: a steady accumulation of joyous energy. And that doesn't let up. The miniature road movie "Waking Up", with its hints of T Rex and Serge Gainsbourg's "Bonnie and Clyde" might be mainly acoustic and softly sung but it rockets along with breathless anticipation, the addition of Gainsbourg's daughter Charlotte on vocals adding extra glamour.
"Free From Gravity" might be the most complete expression of the influences coming together. Beautiful cascading bleep melodies and strings wrap around the funkiest stop-start drum machine and a relentlessly infectious bassline to perfectly embody the bittersweet theme of yearning to "escape everything that's weighing you down." "The World Will Turn" is bittersweet too. A song about saying goodbye but hoping it's not forever, it started as a miniature acoustic interlude, but once Raven Bush's heart-stopping violin part was added to it expanded into the glorious calm heart of the album. Again, demonstrating the band's unique ability with segues derived from their honed live sets, its gentle radiance then erupts into the vivid glow of the title track, the most obvious dance music track on the album – "just a daft little moog synth line and a looped beat" as Dave puts it, but in fact a channeling of total joy.
It's a glorious move forward, and even now, Dave is thinking forward to how they might stay fresh next time around: while COVID19 lockdown has given him a lot of time to work on his own electronic tracks at home, he's dreaming of bringing in an outside producer for Django Django to free him from that role and let him concentrate on songs. Not many musicians are this future focused at such an uncertain time. But there's a natural optimism to Django Django that shines through in their conversation and in their music alike. It's not the naivety of youth any more – they clearly know themselves and their processes any more, and don't need to hide their light under a bushel.
Rather it's a kind of confidence that comes of finally having processed the shock that Vinny felt, when he signed on the dole after finishing the first album, then immediately discovered that his "weird little cult band" was doing well enough to sign back off again. Glowing in the Dark is a record about escape, sometimes sad and yearning, but very often full of hope: and that's the sound of experience, because this is a band who know what it is to exceed even your wildest hopes.
---
Video & Press
Django Django Announce New EP, Share Video For New Song 'Swimming At Night'

[Under The Radar] Winter's Beach EP Due Out October 12 via Ribbon Music By Christopher Roberts Django Django released their third album, Marble Skies, back in January via Ribbon Music. Now they have announced a brand new EP, Winter's Beach, and shared a video for its first single, "Swimming At Night." Winter's Beach features six […]
---