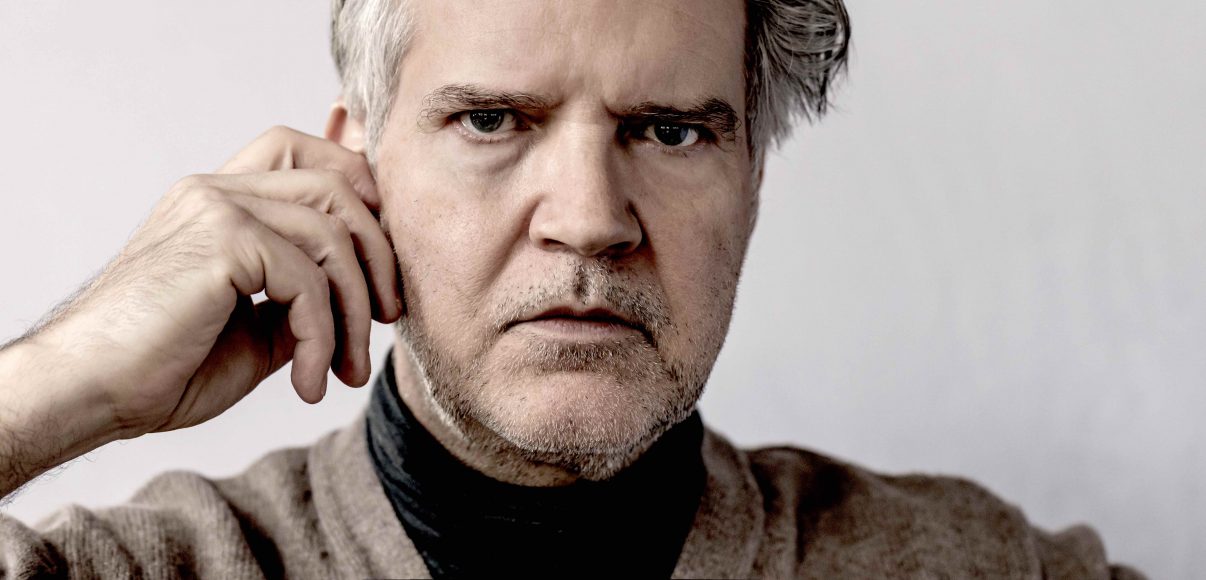 Lloyd Cole
Biography
GUESSWORK
Some albums coalesce around a title. Lloyd Cole's new album is one such record. Guesswork mirrors the uncertainty of the world as you enter your third act. Guesswork is consistent with a record whose protagonists seem reluctant to ven-ture confidently beyond the moment. In terms of minutes, it's his longest, but in terms of songs, it's shorter than any of his previous eleven solo albums (fourteen if you count those he made with The Commotions). Guesswork is also his short-est in terms of total words sung. This might come as a surprise to those who primarily remember Lloyd for the precocious literary pop dispatches of 1984's Rattlesnakes, the debut album which earned him an unlikely place alongside Wham! and Duran Duran in the following year's Smash Hits/Panini sticker book. However, for other onlookers who have followed his progress in the interim – taking in the muscular urban art-rock of his solo debut X (1990), the delicate digital folk of Music In A Foreign Language (2004) and a succession of electronic albums culminating in 2015's 1D – that may be less so.
Mostly constructed in his Massachusetts attic space, Lloyd's first "songs" album since 2013's universally acclaimed Standards sees him finally create a (mostly) electronic setting for his voice. "For a while," he says, "it wasn't clear if the pro-ject would ever come to fruition. I've always listened to electronic music, ever since hearing albums like [Iggy Pop's] The Idiot and [David Bowie's] Low. There's a simplicity to those records – even the gentle songs are very brutally projected. As I've got older, I've become more attracted to lyrics that suit that delivery. Age-ing is brutal and lends itself to a less ornamented way of writing."
Once Lloyd had formulated a sonic picture of the record he wanted to make, the arrival of each new song gradually brought that picture into focus. Although au-tobiographical interpretations of his songs have always been discouraged, The Over Under might resonate with "empty nesters" casting their gaze around four walls that might once have paid host to the laughter of children. It's an un-flinching slow-reveal establishing shot: a sparse study of a life released from the tension but also the structure of duty. Much of what follows seems to hang weightlessly in the vacuum vacated by the "certainty" of youth (one of two nods here to Robert Palmer's Johnny & Mary, the other being the rhythm of Violins). This is a place far beyond romantic idealism. This is a place where lovers ponder their options, turn to each other and float the notion that they "could pool to-gether/And be half right all of the time." A place where, on The Loudness Wars, partners seek to hammer out an accord between their failings and their feelings: "Yeah, I'm a cold fish/Nobody's choice dish/And you're on fire."
At times, the experience of listening to Guesswork is akin to sitting in a sleek, state-of-the-art departure lounge, unsure of quite where you're waiting to go. It's a feeling that finds its purest expression amid the pensive stabs and brittle snare cracks that measure out The Afterlife's hungover existential audit and Remains – the latter one of two songs on the record co-written by Lloyd's old Commotions colleague Blair Cowan. Over a synergy of rapt synths and exquisite saxophone, the song finds Lloyd riding the seemingly sudden realisation that "we're nothing to no-one" – a rueful inversion of the sentiments parlayed on 1990's Don't Look Back ("When you're nothing to no one/And you're less than you can…") "When I was 27," notes Lloyd, "The concept of the washed up older guy seemed very enter-taining."
And now? And now, he says, "I'm starting to think that old age could be a lot more fun than middle age. Because really what have we got to lose?" Certainly those sentiments are borne out by some of the brighter, poppier arrangements on Guesswork. With its neon Oberheim twinkle pushed to the fore, the unguarded intimacies of Moments & Whatnot seem to locate a blissful equidistant point between The Man Machine-vintage Kraftwerk and Robyn. Float that comparison past Lloyd Cole, and he's anything but perturbed. "That's great. Robyn has made probably my favourite music of the last fifteen years. I think she's a genius; she's almost the Prince of her generation." Further ramping up the melodic quotient is an sublime slice of mid-life synth-pop which answers to the name of Violins. Were it not for the unmistakeable voice that hits the ground running with the lines, "The missile leaves the car/Flies through the window pane", you might be forgiven for thinking you'd taken a left turn into the new Pet Shop Boys album. "Well, one of the glorious things about pop is that you have this wonderful up-lifting art form which can actually deal with some fairly challenging issues and sometimes can do so quite elegantly. That's what my favourite pop stars do."
On the face of it, you might be forgiven for thinking that Guesswork finds Lloyd a universe away from the literate lyrical character studies scattered across his early records. The word count may have diminished, but you can attribute that to the authorial confidence that comes with the passing of time. Indeed, nestled among the still, sundazed ruminations that dominate Guesswork, is one of Lloyd's most compelling narratives. When I Came Down From The Mountain sees its protagonist abandoning his home in the hope that he might finally cast off the weight of his sins. "How am I going to live down here?" he intones over a chorus urgently abetted by guitar work from the other ex-Commotion on the rec-ord, Neil Clark (who will also be accompanying Lloyd on his upcoming live shows).
Completing the rollcall of long-trusted associates on this record, alongside Neil and Blair, are New York drummer, programmer and producer Fred Maher who first worked with Lloyd on X, and executive producer Chris Hughes, whose asso-ciation with Lloyd stretches back to the final Commotions album Mainstream on which he worked in an "informal" capacity. For Lloyd, the involvement of Chris Hughes provided some much-needed perspective in moments which saw him un-certain whether he had jettisoned too much of what was recognisably Lloyd.
"When I was making the record I felt like I was stretching myself artistically, per-haps even to breaking point, and Chris just laughed. 'No-one else could have made this record,' he said, 'It's soaked in Lloyd-ness' You realise over time that however much you second-guess yourself or try and pull yourself in whatever di-rection, it's still you. If you have a voice, you can't un-voice yourself."
---