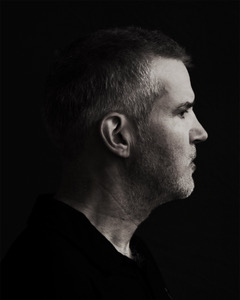 Lloyd Cole
Biography
On Pain
"I certainly didn't set about making something that was going to be quite this intense," says Lloyd Cole about his stunning new album On Pain. "But I wanted it to be more extreme in all directions: I wanted the minimalist stuff to be more minimal, I wanted the poppy stuff to be more poppy, and I wanted the abstract stuff to be more abstract."
And so, to paraphrase one of the songs from On Pain, Cole's music has become more of what it is: there's an elegant economy here that only comes with experience, magnified by an evocative way with technology that can only come with insatiable curiosity. Sixteen albums and nearly 40 years into his illustrious career, Lloyd Cole is exploring what the 21st-century version of what a singer-songwriter is.
This is certainly sophisticated music, both harmonically and sonically, but the spaces within it, and the straightforward language Cole croons over it, allow in ineffable feelings: often, they're powerful currents of melancholy, even dread. What with the current state of things, the songs assume an almost oracular feeling, like maybe On Pain is a musical canary in a cultural coal mine.
Although best known for guitar-oriented music with Lloyd Cole and the Commotions and a long line of acclaimed solo records, Cole has made plenty of exquisite synth-based music: 2001's Plastic Wood, 2013's Selected Studies, Vol. I (with Hans-Joachim Roedelius of legendary Krautrock band Cluster), and 2015's sublimely minimalist 1D. 2019's Guesswork achieved a compelling singularity between digital electronics and the literate pop that made Cole's name. But On Pain takes it a step further into the future.
After Cole used a random digital noise generator as the basis for the four long, abstract compositions of 2020's Dunst, "I decided I'd apply that musique concrète approach to songs," he says. "And that's how a lot of On Pain was created. The challenge was to make music that I'd want to listen to, a record that might be able to stand next to records that I love."
Besides Cole's four songs, former Commotions keyboardist Blair Cowan contributed the music for three songs and Commotions guitarist Neil Clark wrote the music for one, then Cole edited the tracks, reshaped some of the sounds, and added additional instruments, lyrics and vocals at The Establishment, the studio in the attic of his home in western Massachusetts. The only other musicians on the album are backing singers Joan Wasser (Joan as Police Woman), Renée LoBue (Elk City) and Dave Derby (Gramercy Arms). While he was recording, Cole FaceTimed with producer Chris Hughes (Tears for Fears, Adam and the Ants, Robert Plant), then traveled to Hughes' studio in Wiltshire, England, where they did some instrumental overdubs and mixed the record.
That preposition in the album title is very deliberate. "I really don't like the idea that songs are about things," Cole explains. "I like the idea that songs are things — and that they exist independently of their creator. But if I'm conscious of anything with my writing, it's trying to write from the part of life that I'm in now — there are aspects to being an older person that provide angles that didn't exist before." So, it's no use breaking down what the songs are about, and instead focus what they're on: trust, friendship, wolves, a dislocation from reality, and, yes, pain, all conveyed in varying permutations of Minimalism, catchy synth-pop and the candor of the singer-songwriter tradition, conjuring an all too vulnerable humanity out of silicon chips.
The troubled characters, the existential unreality, the incantatory spell of the music all reach their apotheosis in "This Can't Be Happening": just twelve words repeated more than a dozen times, it sums up the surreality of tragedy, to these ears anyway, and the way we at first try, over and over, to deny its truth. It could be interpreted as a terrifying song, but its very grace, as with the rest of On Pain, performs the kind of alchemy that the best music can achieve: transcending anguish by making art out of it. "All I want to do is make beautiful things," says Cole. "I just try to make the best music I can and hope that it brings beauty into your life."
— Michael Azerrad
New York City, March 2023
********
For any media inquiries, please contact Perry Serpa at Vicious Kid Public Relations. (917) 660-4137; perry@viciouskidpr.com
---