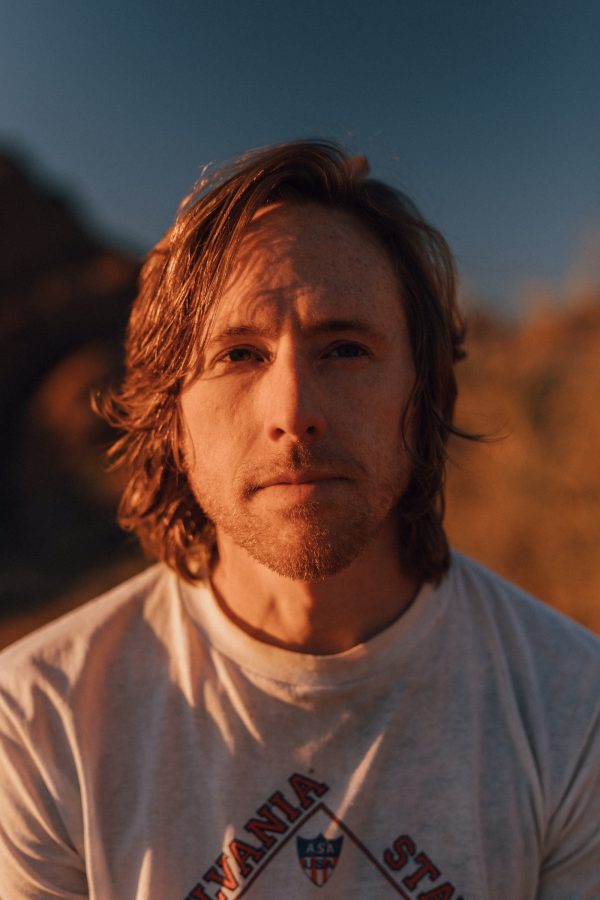 Lydia
Biography
Liquor
Lydia frontman and founder Leighton Antelman doesn't take his band for granted… anymore.
When the Arizona-based indie-rock project initially formed in 2003, a high school-aged Antelman was mostly just messing around and having fun writing songs with his friends. "I was winging it," he describes.
When high school ended, Antelman enrolled at Arizona State but, only a year in, realized higher education wasn't right for him. So, as an experiment (and, he notes, against every older adult's recommendation), he hit the road with Lydia. Now it's 14 years later, and he's been churning out albums and touring ever since.
Today, Lydia are seven albums into their career, with their latest output, Liquor, arriving on June 22 via Weekday Records. The trio, which now features core trio Antelman, Matt Keller, and Shawn Strader, all live in the Phoenix suburbs and continue to collaborate on new material.
When writing Liquor, a title Antelman says is taken directly from the album's lyrics, the group began tinkering around with new songs shortly after they finished touring behind their 2015 record, Run Wild. "I don't know if we've ever been a band to sit down in a room and Led Zeppelin-jam out songs," he says. "We have our own separate studios in our respective houses, so we all kind of write on our own."
When they weren't driving to each other's houses to share fresh material, the trio also came together at Big Bear Lake in California, where they recorded three tracks from Liquor. Renting a house together, the group holed up and recorded a mountain of material, which they later whittled down to form the bones of Liquor.
Liquor also marks the first time in a decade that Lydia is releasing work under a record label: Sony imprint Weekday Records, which is also home to singer Lauren Ruth Ward, who appears as a guest on the yearning, organ-tinged anthem "Red Lights."
"Lauren's awesome," says Antelman. "She has a phenomenal voice."
Collaborating with his bandmates to choose the jarring album art, which features a young woman face up in a bathtub, mouth positioned under an open faucet, Antelman speaks fondly of their choice and the photoshoot itself. "The girl in [the album art] is actually our guitar player's girlfriend," says Antelman. "That's at his house that he moved into a week before, and there's this really cool-looking bathtub."
Once Lydia was ready to record the rest of Liquor, Weekday helped them team up with renowned producer Eric Palmquist, who's previously helmed records for post-hardcore legends Thrice and alternative standouts MUTEMATH. With Palmquist, Lydia recorded the remaining seven Liquor tracks at Palmquist Studios in Los Angeles. "We went there for a few days, tried out a couple of songs, and everyone was vibing pretty hard," says Antelman of how he first connected with Palmquist. Everyone was getting along, so, we were thinking, let's do the rest of [the songs] with Eric."
Though Lydia produced it, one of the tracks Palmquist took to the mixing console was album single "Let It Cover Me Up," an eerie, anxious song that starts and stops like a wind-up clock. "That one was definitely one of the first tracks we actually ever did for the record," says Antelman. "It had this creepy piano part that I had for the verse and pre-chorus. And then I brought it to the dudes, and they put this weird spin on it for the time-signature change, where it speeds up for the chorus. My first time hearing it, I said, 'Damn, that's sexy."
Equally unsettling is the aching album opener and single "Sunlight," which showcases a complex relationship with its subject ("Tell me you love me used to… You're just my favorite motherfucker I know"), though Antelman declines to expand on its meaning. "I'm never one to give this detailed backstory of songs," he explains. "It seems like I'm ruining whatever they want to take from it. You should take whatever you want to take from it."
Antelman will have the chance to hear what his fans make of Lydia's new material when the band hits the road again in the spring, when they'll be touring with emo revivalists Moose Blood. Antelman can't wait to get on the road, claiming that he's "getting kinda stir crazy."
Moving forward, you count on Lydia to keep rolling out new music; writing is just something Antelman builds into his day, like any job. "I think a lot of musicians can get into trouble if they're waiting for something to inspire them," he says.
But it's not just any job. Antelman is profoundly grateful that he gets to write and record music for a living—especially in the outfit he founded more than a decade earlier. "As the years go on, I think, 'Wow, this is crazy that I still get to do this and it still pays the bills. I still can do what I love for a living.'"
By Rachel Brodsky
---