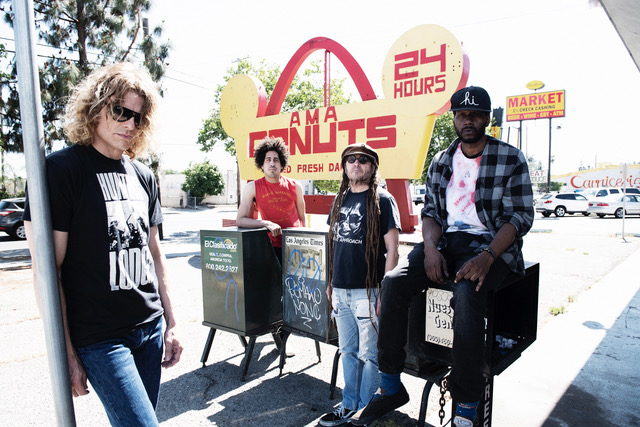 OFF!
Biography
OFF! 2021
Some things in punk rock are eternal, like the raw and snarling sound of the original SoCal hardcore scene that birthed Black Flag and the Circle Jerks. Singer Keith Morris was a founding member of both uncompromising acts, but his most unexpected feat has been his latest chapter, operating at peak rage and inspiration for a new millennium as frontman to the hardcore supergroup OFF!
Beginning in 2010, the explosive quartet released three highly acclaimed albums on Vice Records, and delivered a modern take on the original blueprint of first-wave hardcore to fans around the world. Songs written by Morris and guitarist-producer Dimitri Coats (Burning Brides) are blunt and brutal takes on modern life, fueled on wild downstroke guitar riffs and a dreadlocked singer permanently pissed. The sound is stripped down and free from latter-day punk rock formulas, signified further with startling cover art by unofficial "fifth member" Raymond Pettibon. Pitchfork has called the music "essential," while the New York Times described Morris's latest band as "something great."
Now, in 2021, OFF! is back for another round of frantic beats and nervous breakdowns, with a full schedule of projects in motion, including work on the band's first new studio album in seven years and a long-planned sci-fi feature film. Joining OFF! on that mission is a powerful new rhythm section: bassist Autry Fulbright II (Trail of Dead, Vanishing Life) and drummer Justin Brown (Thundercat, Herbie Hancock).
During this last year of Covid-19, OFF! was deep into planning their next phase when the catalyst to finalize the band's new lineup came from an unexpected source: Metallica. The heavy metal icons invited OFF! to be one of a small crowd of rockers and pop acts to help celebrate the 30th anniversary of The Black Album by covering one of its songs. OFF! chose to record the thrashy "Holier Than Thou" and in January 2021 entered a studio in Los Angeles with Fulbright and Brown to rework the song to their own high- anxiety specifications, accented with blasts of noise and punk rock saxophone.
OFF! is also newly signed to Fat Possum Records, and this summer will begin recording their next album, all while making preparations for shooting the feature film early next year. (The label is also re-releasing the increasingly scarce OFF! catalog.)
Since the band's beginnings, Morris has often called OFF! the most satisfying experience in a long career of punk rock ups and downs. He wrote about his wasted years in the 2016 memoir, My Damage: The Story of a Punk Rock Survivor, but his greatest venue has always been in front of a band set to burn. Fans who have endured the quartet's long absence from the studio are about to get relief — OFF! is back.
---
Video & Press
OFF! Announce First Album in 8 Years & Tour

[Brooklyn Vegan] Keith Morris-fronted hardcore punk supergroup OFF! have announced their first album in eight years and first with their new lineup, Free LSD, due September 30 via Fat Possum. The lineup is now Keith and co-founding guitarist Dimitri Coats (ex-Burning Brides), along with new drummer Justin Brown (who's played with Thundercat, Flying Lotus, Herbie Hancock, and more, and is […]
---