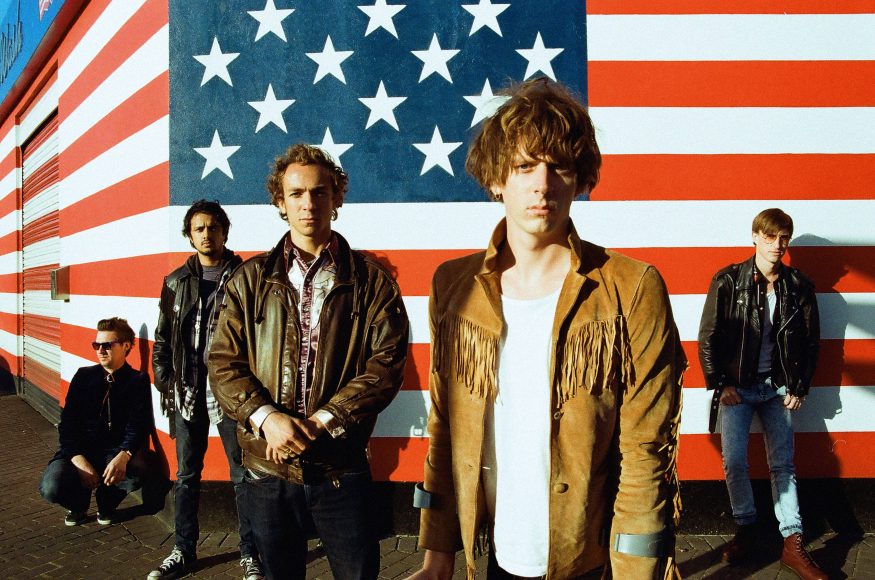 Mystery Jets
Biography
All the best bands create their own universe. Few, however, create one as strange and bewitching as the Mystery Jets. Based on Eel Pie Island, the Bohemian stronghold in the middle of the Thames at Twickenham, the Mystery Jets embody British pop at its most invigoratingly weird. Already, previous singles 'Zoo Time', 'You Can't Fool Me Dennis', 'On My Feet' and 'Alas Agnes' have seemed like dispatches from some starry-eyed parallel universe. A universe where Syd Barrett never dropped out but played on with Einzurstende Neubauten, where the irresistible pop of Dexy's can happily co-exist with the Krautrock explorations of Can, and where the most forbidding musical forms of the past, like prog rock, are gleefully reinvented in the smash-and-grab spirit of the present.
Now those dispatches have given way to a full-on, widescreen statement – the Mystery Jets' debut album 'Making Dens'. Recorded with producer and fellow musical visionary James Ford, it's guaranteed to add a technicolor new dimension to Britain's thriving young rock 'n' roll scene. Songs like 'Purple Prose', 'Alas Agnes' and the climactic 'Making Dens' take you on a psychedelic head-trip through joy, misery and the full spectrum of emotions in between. 'On A Trembling Day' combines lyrical imagery from Van Gogh's final paintings with music so intense it's like you're in the artist's own despairing mind. 'Soluble In Air', recorded in the Eel Pie Island boat yard, site of Mystery Jets gigs legendary for fan hysteria and circus-style bizarreness, weaves together church bells and choral harmonies into a star-surfing fantastia, which is nonetheless utterly English. Comparisons are odious, but if this album doesn't do for British music what the Arcade Fire did for America (and more), thenwe'll eat Syd Barrett's mandrax-infused hair gel.
Mystery Jets are Will Rees (guitar/vocals, 20), Kapil Trivedi (drums/vocals, 20), Blaine Harrison (keyboard/vocals, 20) and his father Henry Harrison (guitars/vocals, "slightly older"). Will and Blaine met at nursery school at the age of four. Kai's parents lived with Blaine's parents in a commune in the Seventies ("we used to share hash cookies together", notes Henry, a former architect). When Will went to boarding school and Blaine moved to France with his mother, the pair used to communicate via postcards which were, says Blaine, "the early stages of the band. We used to do drawings of all the different line-ups. Henry was always in the band."
Their original name was The Misery Jets, which was taken from an 'Evening Standard' headline (Eel Pie Island is under the Heathrow flight path – a plane used to go over every 50 seconds), changed to Mystery Jets when Blaine accidentally misspelled the name while painting it on a drum skin. Kai joined the band at the age of 12 after suggesting that they needed a bassist (he played the cello). "Kai basically took over the band and started driving it," jokes Will. "He got us the gigs, booked us a tour, got us groupies, like 'here's your groupie', taught me to smoke my first cigarette… "
"I couldn't play the bass," admits Kai. "What I love is that I learnt in the band. I wouldn't play the bass in another band; I'd be the front man. It suits my personality more, but this band is a different thing. It's a world, and everyone puts as much as they can into it and the result is what comes out in the music."
The band would practice in the boat shed built by Henry on land he bought after a hippy commune on the island burnt down. The final member to join was Kapil, whose background wasn't the Bohemia of Eel Pie Island but the rather less arty Wembley, North London. A virtuoso drummer, champion breakdancer and the Mystery Jets' most ebullient performer, he found out about the band through his drum teacher. "Even at that age – 17 – we couldn't believe how good a drummer he was," says Kai. "We all had to raise our games to be in the same league as Kaps."
Their most formative influence, however, was Henry's record collection, which Kai, Blaine and Will devoured along with 'Mojo' magazine, whose long stories on the lost heroes of prog and psych would fascinate the nascent Jets. Perhaps the primo Mystery Jets hero is the aforementioned Syd Barrett, whose Mick Rock portrait hangs in the Mystery Jets' boat yard rehearsal studio, ringed by a lifebelt. "He embodies an attitude that we feel a kinship with," explains Will. That kind of innocence."
Syd Barrett, however, never had his dad in the band. "Henry has been here since day one – since before day one," explains Blaine. "The whole crazy thing was really his idea."
"I was in a band when I was at school," elaborates Henry. "The other guys in the band were brilliant but I went off to study architecture. My regret at doing that is why I've pursued this with such relentless force. As for what people think about me being in the band, I can only go on what happens live which is generally incredibly positive."
Henry's age doesn't even make him the de facto authority figure now the band have management and a record company (679). "I'm just another member," he says happily. "I'm one of five. I love it. That whole authority thing served a purpose and when it was done I was glad to relinquish it, because it got in the way of us working properly together. Now if they disagree with me they just swear profusely."
"What the fuck do you mean?" retorts Blaine.
Though the band are emphatically not art rock, there are dimensions to them beyond the mere musical. Kai makes films (including three videos for the band). Will, Blaine and Henry – the first two of which went to Camberwell art school like Eno, Freddie Mercury and Syd before them – do the artwork. Then there are the live performances which have already gone down in history. While a noise abatement order no longer allows them to play gigs in the Eel Pie Island boatyard on pain of a £20,000 fine, at the end of 2005 they took the Island on the road, with a tour named the Eel Pie Revue. It took in 16 support acts over 27 dates, many of whom played the original Eel Pie parties. "You know Bob Dylan's tour, the Rolling Thunder Revue?" asks Blaine. "I just love the way he named it and gave it a direction. If you're going to trek out across England it's important to christen it and make it a moment in time."
Over the past year, the Mystery Jets' kaleidoscopic vision has drifted down the Thames and into the hearts and minds of critics and fans alike. 2006 will see ever greater numbers recruited into their all-singing, all-breakdancing, all-kitchen utensil-banging army. "We want to communicate," says Will, "but in a way that isn't superficial. In a way that can make a difference to people's lives."
"If we've got any concern it's about whether people will get it," says Henry. "Because we don't compromise, we do exactly what we want to do, and if people don't get it it's a terrible shame."
Well, not everyone will get a band who combine lysergic post-punk with all out prog, or whose compulsive creativity leave some songs (at time of writing) with 128 separate instrumental parts. But for those who do get it, their lives will be enriched forever. As a great man once advised, set the controls for the heart of the sun.
November 2005.
---