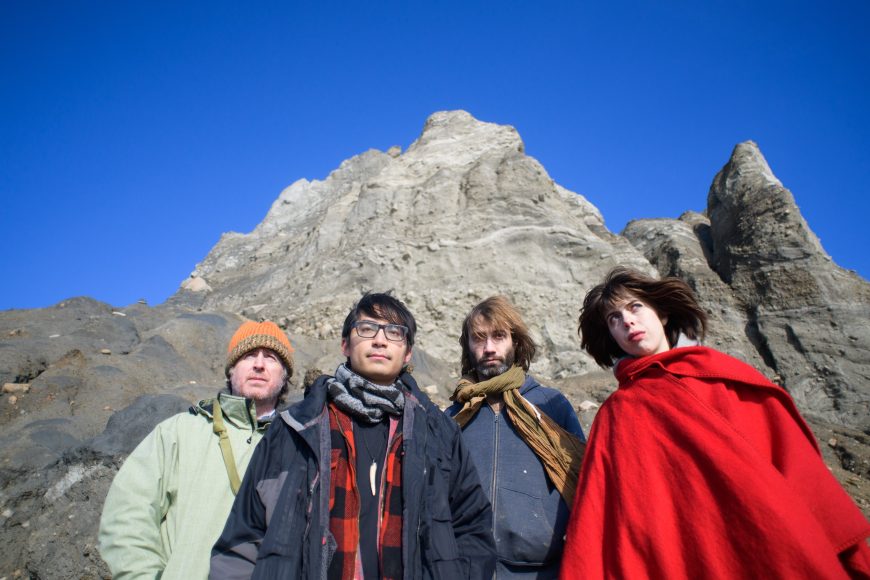 The Low Anthem
Biography
The Universe may or may not have had a Pre-Universe. Stars eventually formed and turned on. Planets and moons followed. Everything in motion, constantly changing, as in a dance of the fireflies. At some point, Ben Knox Miller and Jeff Prystowsky were born to the human family, grew up to love music, and as atomic randomness dictates, found each other turning two on the baseball diamond. They started a band in 2006 called The Low Anthem, and over ten years of making music together, have developed a distinctive sound, and grown a beautiful friendship.
Sounds and silences co-exist. Sounds of nature, extrahuman, fill the silences on the ballfield. What sounds can guitars and basses make into this great creative void? Thus began the journey of acoustics, friendship, song, and their meanings. Providence, RI was the meeting place. They found an apartment together on East St., bought a microphone, and got to work. What came out they called What The Crow Brings. It was their first record.
"I remember hanging a microphone outside a third floor window, and the cable dangling over a clothesline on the second floor," mused Jeff. "We got the take, though," said Ben.
That winter, while many Rhode Islanders sought shelter on the mainland, Ben and Jeff assembled a small crew of friends and sailed to Block Island to make another album. What came out they called Oh My God, Charlie Darwin. It was their second. "I always wanted to record the sound of crackling fire, and finally had my chance" said Jeff. "You never know what thorns to the rose may grow," said Ben.
You can't really predict the future, or know the past. Somehow, the second record struck a chord. There seemingly wasn't a land on Earth that the band didn't stop in to play those songs to people who wanted to hear them. But the band grew restless. "I wanted to record again," tells Jeff. "How many times can you count the moon with stick markers on the inside of a minivan?" said Ben. The band returned home to find a large abandoned pasta sauce factory in a complex of mill buildings in Central Falls, RI, took up residence, and got to work. What came out they called Smart Flesh. It was their third. "Damn cold in there," said Jeff. "But luckily we had a band's dream: a pizza sponsorship, a baffleball court, and a built in workout facility–one could bike from the control room to the couch." "The mood was clear, late stage capitalism decay," said Ben. NyTimes sent a reporter to the factory for a story.
Does a tour van in a vacuum..? The band found a new home in Providence, in an old vaudeville era opera house called the Columbus Theatre.
"What goes up must come down, and what goes out must start within," said Jeff. The band set out to build a recording studio and make a new album with a different sound. It was an ambitious task, and one that took more time than they thought. "We fell in love with the place. And love, blind as mics are deaf, bent our perception of time," said Ben. What came out they called Eyeland, and named the studio in its honor. The old venue soon reopened its closed doors, with the help of the band, and NyTimes again sent a reporter to cover the story. When the studio doors opened, many friends came to record there and enjoy its beauty. "It's beautiful," said Florence. "Ditto," said Bryan.
---
Video & Press
Listen to a Mesmerizing Performance by The Low Anthem at WFUV

[wfuv] Ben Knox Miller and Jeff Prystowsky met at Brown University while working at their college radio station. From that bond, the Low Anthem was born. Last year, the Providence, Rhode Island band marked the 10th anniversary of its debut album, What the Crow Brings. After a few years rehabilitating an old 1920s theatre, opening […]

NPR First Listen: The Low Anthem, 'The Salt Doll Went To Measure The Depth Of The Sea'

[NPR] I can't think of another album that sounds quite like The Salt Doll Went To Measure The Depth Of The Sea. Not in title, not in sound. Oh, there are familiar song structures and vocal harmonies. But hearing this record brought me back to the night I learned of the accident: a crashed van, […]
---