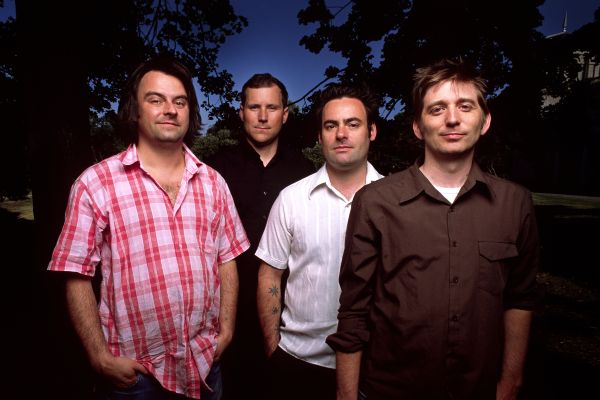 The Weakerthans
Biography
Stephen Carroll – Guitars, Vocals, Pedal Steel, Keyboards
John K. Samson – Vocals, Guitars, Keyboards
Greg Smith – Bass, Vocals, Keyboards
Jason Tait – Drums, Percussion, Vibes, Glockenspiel, Keyboards, Banjo, Loops
The Weakerthans recorded their fourth album, Reunion Tour, in March 2007, in a recording studio built above a factory on the outskirts of Winnipeg, the cold prairie city where the band was born 10 years ago.
The factory produces cases for machines and computers and musical instruments, but only in the daytime; for a week and a half in the middle of winter, after the casemakers departed each afternoon at 4:30, the musicmakers, led by producer Ian Blurton, would arrive and play all night, crafting new sounds and new songs on the factory floor and then driving back to the city through the frigid Manitoba pre-dawn.
The result is lush and energetic, infectious, unforgettable – hours after listening to it you may be surprised to find that you still have one of the songs stuck in your head, and what's more, it's a song about curling. Yes, curling: that noble sport of sweeping and sliding that in the snowier precincts of North America is more like a religion than a sport. (Winnipeg, a city of just 600,000 people, has 21 curling clubs.)
"Tournament of Hearts," the curling song, is a perfect example of what John K. Samson, the band's lead singer and lyricist, calls "first-person fiction," and there's a lot of that on Reunion Tour.
Like Bruce Springsteen's "Nebraska" or Tom Waits's "Bone Machine," the album is a collection of finely rendered portraits of fictional characters, none of whom you probably know but all of whom you'll recognize. There's the dot-com millionaire on his way down in "Relative Surplus Value," the Winnipeg bus driver of "Civil Twilight"
whose assigned route takes him every two hours past a house that is haunted only for him. And there are real-life characters, too: "Bigfoot!" tells the story of a ferry operator in northern Manitoba who saw the legendary creature and was then taken advantage of and mocked by everyone from cable news networks to the citizens of his own small town. In "Hymn of the Medical Oddity," we meet Winnipegger David Reimer, who was born a boy but raised as a girl after a famous and tragic medical experiment.
Many of the themes and images of previous Weakerthans albums are here, from missed communications to abandoned buildings to the geography of Winnipeg. (Virtute the cat, the narrator of one of the more memorable songs from the band's last record, returns, too.) But there are new connections as well: the majority of the
songs are about men, some sympathetic, some despicable. Two of the songs, "Sun in an Empty Room" and "Night Windows," are inspired by specific Edward Hopper paintings. And, more elusively but not less significantly, this is a record made during wartime, and images of combat and struggle lurk on many tracks.
The Weakerthans have long been known for their lyrical ingenuity, but they are, after all, a rock band, and Reunion Tour is a musical triumph. Stephen Carroll, who, like Samson, lives in Winnipeg, plays guitar, pedal steel and keyboards. Greg Smith, the newest member of the band, plays bass and keyboards. He lives in Toronto, as does Jason Tait, who plays drums and percussion, as well as keyboards, banjo, vibes and glockenspiel.
Reunion Tour is not itself a reunion – The Weakerthans have never gone away – but it is a giant step forward for the band. There's a new confidence and comfort here, four musicians more sure than ever of who they are and what they want to say.
---