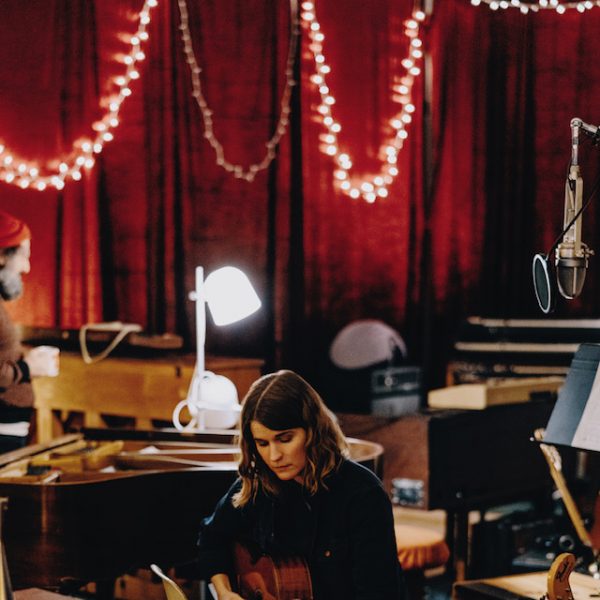 Jenny Owen Youngs
Biography
In the decade since Jenny Owen Youngs last released a full-length album, she's toured the world, co-written a #1 hit single, launched a wildly popular podcast, landed a book deal, placed songs in a slew of films and television series, moved from Brooklyn to Los Angeles to coastal Maine, and gotten married, divorced, and married again. She's done everything, it seems, except release another album.
"After writing a zillion songs with other artists and immersing myself in other people's voices for ten years, I finally started to get excited about making my own music again," she explains. "It was like I took this extended sorbet course, and after that palate cleanser, I was ready to dig back in."
With her exceptional new Yep Roc debut, Avalanche, Youngs delivers a main course worthy of the wait. Written with a series of friends including S. Carey, Madi Diaz, The Antlers' Peter Silberman, and Christian Lee Hutson and recorded with producer Josh Kaufman (Bonny Light Horseman, The Hold Steady, Cassandra Jenkins, Josh Ritter), the collection is an achingly beautiful exploration of loss, resilience, and growth from an artist who's experienced more than her fair share of each in recent years. The songs are deceptively serene here, layering Youngs' infectious pop sensibilities atop lush, dreamy arrangements that often belie the swift emotional currents lurking underneath. The performances, meanwhile, are riveting and nuanced to match, gentle yet insistent as they reckon with the pain of regret and the joy of redemption, sometimes in the very same breath. The result is the most raw and arresting release of Youngs' remarkable career, a brutally honest, deeply vulnerable work of self-reflection that learns to make peace with the past as it transforms doubt and grief into hope and transcendence.
"There's a good deal of heartbreak and disappointment in this music," Youngs explains, "but it ultimately gives way to excitement and promise, to the incredible, immeasurable bliss of falling in love and finding yourself again. These songs travel the whole emotional spectrum."
That kind of range has been Youngs' calling card from the very start. Born and raised in rural New Jersey, she fell in love with The Beatles at an early age before eventually finding her way to The Cranberries and Elliott Smith in high school. Her self-recorded debut, Batten Down The Hatches, landed a high-profile sync in the Showtime series Weeds and led to a deal with Nettwerk Records, which re-released the album along with her 2009 follow-up, Transmitter Failure. Widespread acclaim and dates with the likes of Regina Spektor, Ingrid Michaelson, Frank Turner, and Aimee Mann followed, but by the time Youngs released her third album, 2012's An Unwavering Band Of Light, she was ready for a change of pace.
"I started making trips to LA and Nashville to write with other artists and for film and TV," says Youngs, who's had her own songs placed in shows like Grey's Anatomy, Bojack Horseman, and Suburgatory. "The more writing I did, the more the creative wheels were greased, and the more I figured out the kind of work I loved to do and the kind of artists and producers I loved to do it with."
Chief among them was Semisonic's Dan Wilson, who signed Youngs to a deal at what would eventually become publishing powerhouse Hipgnosis. In 2016, Youngs co-wrote Pitbull's "Bad Man," which debuted at the 58th annual Grammy Awards; in 2017, she co-wrote Shungudzo's "Come On Back," which was featured in the Fifty Shades Freed soundtrack; and in 2018, she co-wrote Panic! At The Disco's smash hit "High Hopes," which went five-times platinum and broke the record for most weeks atop Billboard's Hot Rock Songs chart. Along the way, Youngs also launched Buffering The Vampire Slayer, an episode-by-episode podcast devoted to Buffy The Vampire Slayer that attracted more than 160,000 monthly listeners and led to a book deal with St. Martin's Press.
"I created Buffering with my wife at the time, and we were only about halfway through the series when we got divorced," says Youngs, who wrote a new original song for every episode of the show. "The project was an enormous and important part of both of our lives, and we knew we needed to see it through, but we'd been together for nine years at that point, and it was an excruciating process figuring out how to disentangle ourselves from our personal relationship while maintaining our professional one."
That emotional rollercoaster ride began turning up in Youngs' writing, which felt increasingly more intimate and personal as she navigated her way through the pain of divorce and the excitement of falling in love with her second wife. Working under her own name once again, she dipped her toes back into the solo artist waters, releasing a series of singles and EPs that earned attention everywhere from the New York Times to Stereogum, all while continuing to maintain her busy schedule of writing sessions and podcast tapings. (Youngs and her ex-wife recently launched a second series called The eX-Files, and she has a narrative fiction podcast due out next year.)
"Eventually I just found myself sitting on this mountain of tracks that all felt like 'Jenny Songs,'" she explains. "That's how I knew I was ready to tackle a full-length album again."
Working with Kaufman, Youngs tracked the music quickly and intuitively, recording guitars and vocals live on the floor in minimal takes. It was a new, at times daunting approach—in the past, she'd often painstakingly crafted songs a layer at a time—but the presence and magnetism of her performances was undeniable.
"I don't think this album feels like anything I've ever made before," she reflects. "It breathes and feels alive in ways I didn't know was possible."
That vitality is obvious from the outset on Avalanche, which opens with the bittersweet title track. Written with Madi Diaz, the song builds from a tentative whisper to a muscular declaration as it breaks the silence of an emotional bottleneck. "When I try to say the things I can't / It comes out like an avalanche," she sings with breathy, doubled vocals. "How else do I prove that I adore you?" Like much of the record, the track wrestles with learning to let go and surrender to forces beyond our control, with allowing yourself to tear down everything you've built in order to begin again on your own terms. The airy "Salt" grapples with the painful revelations that accompany a necessary parting of ways, while the soaring "Next Time Around" imagines the past lives and parallel universes where things might have turned out differently, and the tense "Everglades" explores the grey areas of honesty and sincerity, with Youngs slyly confessing, "I tell the truth but in between / I say a lot of things I don't mean."
Though much of the album is rooted in the romantic, Youngs' writing is, at its core, an examination of human relationships in all their myriad forms (along with the indelible marks those connections inevitably leave on us). The tender "Goldenrod" works through the unexpected death of a friend and the unsaid goodbyes that still linger after their passing; the mesmerizing "Bury Me Slowly" excavates childhood trauma and explores the ways it shapes us as adults; and delicate closer "Now Comes The Mystery" contemplates the emptiness that death leaves behind. But even in the face of profound loss, there's always the opportunity for a fresh start, a notion that's perhaps best encapsulated by the hypnotic "Knife Went In," which finds Youngs reveling in the joy of falling for someone whose scars match your own. "There's a mark on my body / Where the knife went in / Like a map to the memory / Of who I've been," she sings before later offering up a mirror image of the line: "You're the light you're the lantern / And you shine right through / I don't know why you love me / But thank God you do / All I need's what I wanted / And it all begins / At the place on your body / Where the knife went knife went in."
It's a moment of rapturous bliss born from devastating heartache, which is ultimately what Avalanche is all about. There's no substitute for time when it comes to making our way through the darkness of pain and isolation, but there's always a light at the end of the tunnel for anyone willing to make the journey. More than a decade after her last album, Jenny Owen Youngs has reached the other side.
---