Lucinda Williams main page
Lucinda Williams Is Raw, Riled Up and Ready to Speak Her Mind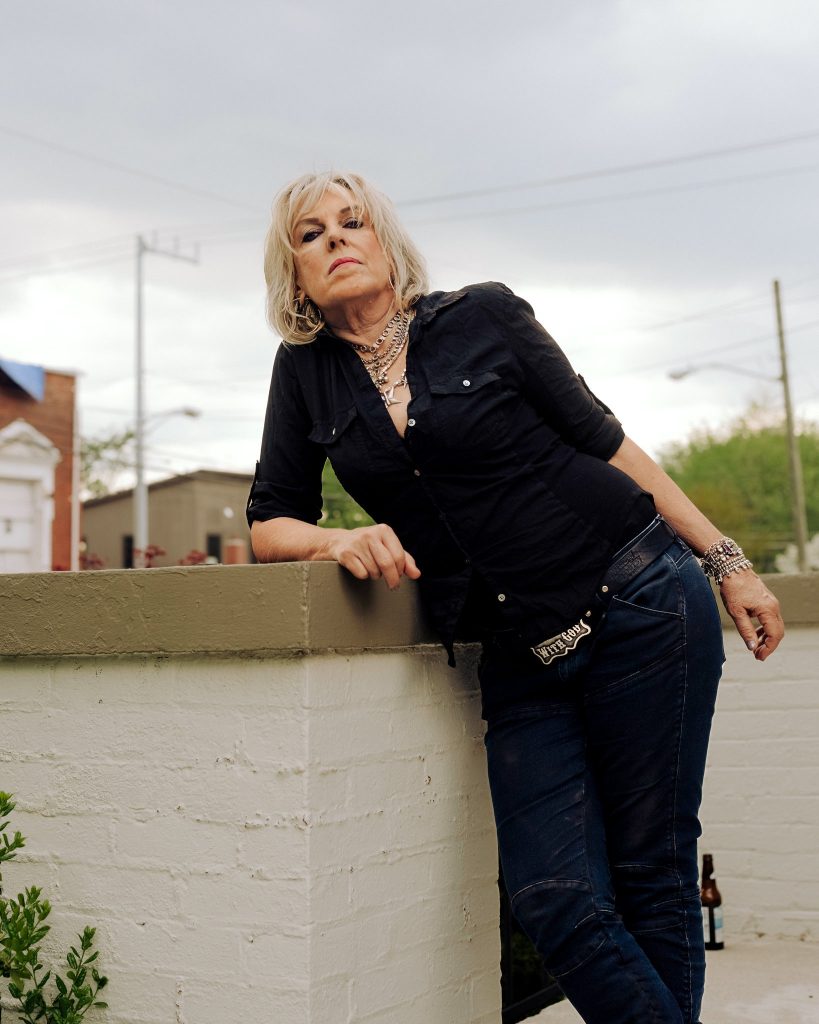 The singer and songwriter's 14th studio album, "Good Souls Better Angels," is stocked with fuzzy guitars and pointed political lyrics.
By Jewly Hight
NASHVILLE — In more than four decades of making music, Lucinda Williams has learned to roll with sizable disruptions. Seated in front of a laptop for an early April video interview in a conspicuously empty room, she quickly dispensed with her latest two challenges: a March tornado that left its mark on her roof, and the self-quarantine that's kept her and her husband and manager, Tom Overby, inside the sparsely furnished house they moved into shortly before the storm.
"Now when we get food delivered from Uber Eats, I have to send a message to the driver and say, 'It's kind of hard to see because we lost our front porch light,'" she said nonchalantly.
Williams's specific variety of renown, on the other hand, is intact. At 67, she's long been held up as an archetype in a lineage of rocking, literary Americana songwriters. The roots scene reveres its elders, but rather than settle into life as a dignified link to the past, she prefers to remain a bit more restless, letting age and experience toughen rather than temper how she expresses herself.
Written and recorded before she could know what crises this year would hold, Williams's 14th studio album, "Good Souls Better Angels," due Friday, contains her most apocalyptic visions to date. It's the work of an idealist horrified by the monstrous power that bullies wield in the world, and its impact is heightened by its delivery system: The album is dominated by fuzztone electric guitars, propulsive blues progressions and direct lyrics delivered in Joan Jett sneers and Patti Smith chants. "You can't rule me," she announces plainly on the opening track.
Williams explained that she was sold on "the garage rock sound, you know bass, guitar, drums." She added, "It just sounded good without other things."
Early on, Williams made moves that performers often reserve for reflective periods later in their careers. On her acoustic 1979 debut, "Ramblin'," recorded in her mid-20s, she faithfully rendered the hillbilly, Delta blues and gospel standards she'd absorbed in her youth. Her subsequent albums were sprinkled with vignettes that conveyed melancholy attachment to the people and places of her past.
Her efforts culminated in the 1998 breakthrough, "Car Wheels on a Gravel Road," an immaculately vivid album made through a strenuous process of trial and error involving numerous studios, producers and players. The LP was canonized as a contemporary roots classic, even as press coverage made its creator out to be intractable.
"I feel like if she was a man, it would have been portrayed so differently," said Katie Crutchfield, who records as Waxahatchee. "She's like a role model to me. Hearing that story, it gives me this confidence that if I'm ever in that situation where I'm making a record and it doesn't feel right, then I can switch gears and not worry about all the outside pressures."
Williams's fans were so invested in the notion that her creativity required perpetual pining and pain that the mid-2000s announcement that she and Overby had gotten engaged was met with concern. "I started getting asked questions, these inane questions, like, 'Are you still going to be able to write songs?'" she said.
Williams had artistic inclinations that she hadn't yet cultivated. She'd always been able to summon force — see her 1988 track "Changed the Locks," in which she sang, in searing fashion, about willing her surroundings to transform themselves to conceal her from an ex. But the ferocity she began to artfully summon in her 50s and 60s felt edgier than the scrappiness typically associated with country-rock.
Overby pointed out in a separate conversation that, at a 2016 show, Thurston Moore strapped on his guitar and joined Williams for a performance of her sprawling, raw track "Unsuffer Me." Williams and Overby produced Jesse Malin's shaggy roots-rock album "Sunset Kids," which was released last year. And when Cary Ann Hearst, half of the duo Shovels & Rope and herself one of the grittier singers on the Americana circuit, opened a string of European dates for Williams, she took in the headlining set each night. "I've never seen a grown-ass woman rock that hard," she said. "Particularly a woman performer who is not 20."
The politics that Williams leans into on her new album didn't evolve overnight. She was thrown out of her New Orleans high school for distributing Students for a Democratic Society anti-racism leaflets and refusing to say the Pledge of Allegiance to protest the Vietnam War. Her father, the poet Miller Williams, then teaching at Loyola University in New Orleans, enlisted an A.C.L.U. lawyer on his daughter's behalf, but she couldn't resist leaving class for what proved to be the final time for a demonstration in front of the school.
"It became very black and white, like you're either for it or against it," she said. "The kids who weren't down joining it were spitting on the protesters from the windows of the classrooms. I was like, 'I can't not go down there!'"
Back then, Williams would sometimes sing Bob Dylan's "Masters of War" at antiwar marches. Much later, after the United States-led invasion of Iraq following 9/11, she added the song to her set lists, because she hadn't yet written a protest anthem of her own. "I always found it really challenging to write those kinds of songs without sounding too 'Kumbaya'-ish," she said.
By the early 2010s, folky, empathetic originals in a '60s folk-rock vein, like "Soldier's Song" and "West Memphis," were making their way onto her albums. "People not getting what they deserve, you know, a roof over their heads and medical care, that's been an issue here forever," she said. "There's always been something to rebel against and be concerned about."
On "Good Souls Better Angels," Williams grows more volcanic. The seething, sensual intensity that had made her depictions of intimate wounds and desires seem metaphysical in the past now takes aim atsocial, economic and political abuses. "It's because of the guy who's sitting in the White House," she said. "The anger and the frustration and all that was building."
Williams hasn't allowed many others into her songwriting process, but Overby, already her partner in life, business and production, shares credit on a lot of the new tunes. "I love that she sort of made me earn it," he said. "I want to be careful. I never want to take away anything from her."
With Overby's encouragement, Williams rerecorded her 1992 album, "Sweet Old World," at its quarter-century mark, shared personal "Car Wheels" stories on a 20th anniversary mini-tour and agreed to tackle a memoir — she's not opposed to commemorative gestures, so long as they don't anchor her in place. But for the new album she did circle back to the engineer-producer she felt captured the full grain of her voice on "Car Wheels," Ray Kennedy.
This time, they opted to keep the embellishment to a minimum — her sometimes plaintive, often tenacious performances, her road band and Kennedy's vintage gear — in pursuit of what she called "the stripped-down thing."
Coming from another source, that phrase might denote a subdued effort, but that's not what holds Williams's fascination at this point. She wondered aloud, "It's really a mystery to me why people do mellow out."
A version of this article appears in print on April 22, 2020, Section C, Page 3 of the New York edition with the headline: Raw, Riled Up and Ready.