Jonathan Richman main page
Jonathan Richman's Zebulon Love-In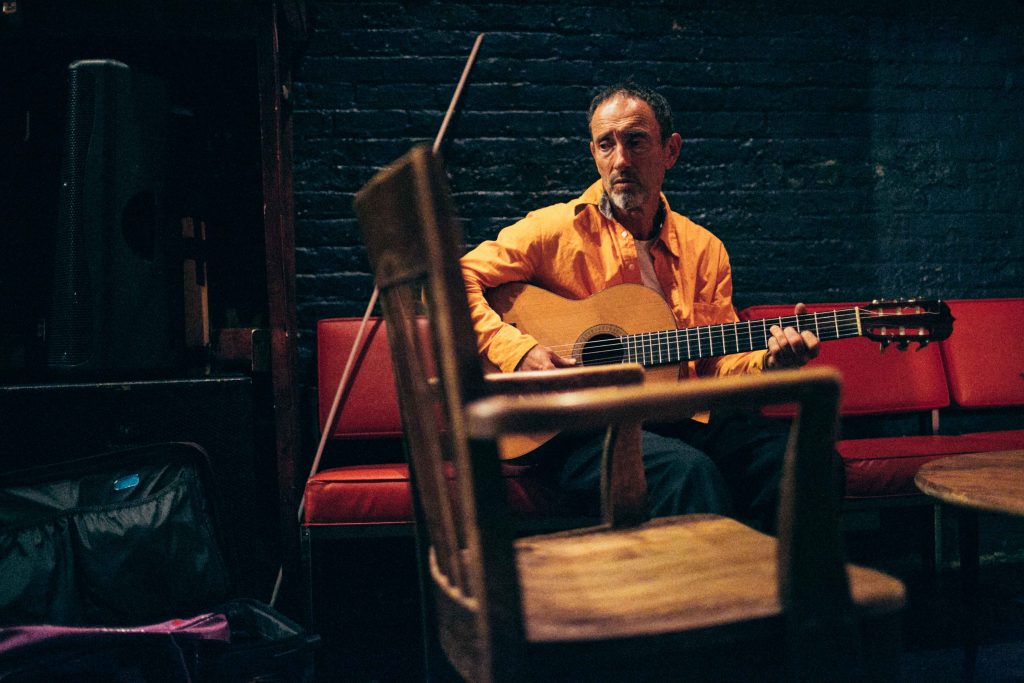 Jonathan Richman's Zebulon Love-In: Modern Lover Jonathan Richman might still be best known for proto-punk anthems "Roadrunner" and "Pablo Picasso," but his career has taken him in all sorts of weird and wonderful directions since then. He's a glorious kook — known for his wide eyes and childlike wonder (as written on Wiki), but also an incisive, artistic way of looking at the world. His lyrics are sweet and infectious — he looks at the same things we look at, but sees them differently. He sees things with those keen eyes, more importantly he remembers them. And he recalls it all later when it spills out into song.
He's performing a number of nights in a row at Zebulon and, on Wednesday, he was playing two shows in a row. That's an 8 p.m. "matinee," and then a 10p.m. show later. Richman insists that phones stay in pockets — no filming, no pictures. And we couldn't bring our camera in to take a photo either — instead, we were provided with one from a different night of the tour. That's normally the behavior of those with a massive ego but one feels it's quite the opposite here. Similarly, he has ensured that the air in the room is muggy, the room is sticky and unpleasant. Richman tells the crowd that he has done this because the music sounds better — it resonates. Fair enough. Oh, and during the set, the bar in that room is closed, and the merch guy doesn't sell merch. All eyes are on the stage.
The set is acoustic; just Richman and drummer Tommy Larkins on stage. That, and the besotted energy from the crowd gives the show a real "folk club" vibe. The curve of the corner stage at this venue has a similar effect, like we're all gathered around the two men.
There's no "Roadrunner" or "Pablo Picasso" — that's not a surprise to longterm fans but those less devoted might not know that he rarely if ever plays them. Certainly "Roadrunner." But the songs that he does play are wonderful.
We had to look up some of the titles, but the tunes were absolutely memorable. "Springtime in New York," which sees Richman cooing about just how much he loves that season in that city, watching lovers walk and talk, is a joy.
Richman has a little sleight of hand that he loves to employ. He'll feign finishing a song, taking a step back from the mic and holding his hands out to take the applause. Then he'll carry on with the same song, making us feel silly for being premature yet in on the joke. He does this two or three times, and it's funny every time. Go figure.
"No One Was Like Vermeer" literally describes the work of Dutch painter Vermeer. Maybe it's a bit of a spiritual sequel to "Pablo Picasso," but this one is far more historical in its description of the artist.
"Affection" and "Not So Much to Be Loves As to Love" are both undeniably sweet, introspective self-examinations, which see Richman connect with the crowd on a rare emotional level. The man just opens himself up.
The set was relatively short but very sweet. And for somebody seeing Richman for the first time, that was a real treat.
Jonathan Richman's Zebulon Love-In: Find out more at bluearrowrecords.com.