Broken Social Scene main page
Broken Social Scene Live at The Fonda, Los Angeles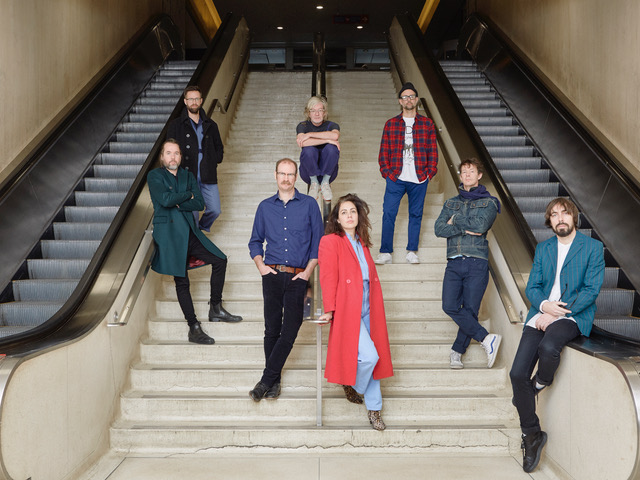 The first show of Broken Social Scene's three-day run at The Fonda had fans dancing and screaming into the start of the next day. The nearly two-hour performance ended with a euphoric moment as singer and founding member Kevin Drew asked everyone to tap into their emotions and let out a loud, long scream. The set culminated in a thoughtful dedication of "Lover's Spit" to a crowd member who said they were going to walk down the aisle and get married to the song. "We hope you get married to it, we hope you get divorced to it…" Drew said as he dedicated the song to the crowd.
They opened with "Pacific Theme," a song they had played as a show opener "many years ago" at The Fonda. "We're gonna do what we've been doing the past 20 years and have fun!" Drew said to the crowd, honoring the duration the band has been together playing music. Members may have come and go, such as Feist and Emily Haines, but the group's cohesive sound was spot on and professional. Their new singer, and wife of guitarist and singer Andrew Whiteman, Ariel Engle was an incredible addition to the group, taking the lead vocals on several songs including "Can't Find My Heart" and more. They performed a song off Engle's project La Force entitled "TBT," and referenced back to how they would play songs from band members' side projects including Feist and Metric. Speaking of Metric, guitarist James Shaw performed here and there throughout the set, picking up the trumpet on occasion as well.
They performed songs pretty evenly dispersed through their repertoire, but primarily from their self-titled album and Hug of Thunder. "Can't Find My Heart" had everyone dancing along to the upbeat indie sound. The vocalists sang a duo beautifully in harmony for "All to All." Anywhere from 6-11 members were on the stage at any given time, each of whom were exceptional musicians. The crowd cheered for the brass section as they brandished their instruments and joined in at the end of "7/4 (Shoreline)."
A krautrock beat started for "Cause = Time" and not a still body was in sight. "Every song is a protest sing but this song is called 'Protest Song'" Drew said before going into another duet with himself and Ariel. The sax solo during the loud and fuzzy "Superconnected" had the crowd dancing and holding onto every note. Simply put, there was no dull moment throughout the set as they cranked through hit after hit, despite being on Eastern time.
"Give it up to Sasami and KCRW who play us sometimes on the radio," Brendan Canning said to the crowd who cheered back. They played a little jazz improv while tuning the guitars before going into a "song about dating," known as "Boyfriends." The band bantered casually with each other throughout the set, making the crowd feel engaged and comfortable.
"Welcome to the second part of the show!" Drew said before slowing things down with "Gonna Get Better" a lush, stunning number. He put down his guitar and sang directly to the crowd for "Sweetest Kill." They picked up the pace with "Almost Crimes" which ended in epic guitar solo from Andrew Whiteman.
"This is the encore!" Drew said before going into a couple more songs. "Hug of Thunder" featured another lovely duet with the female vocalists before they closed the night with a tearjerker, "Lovers Spit."
Local artist Sasami Ashworth opened the night at The Fonda. The ex-Cherry Glazerr member's solo project was received with open arms from the crowd as she entertained everyone with comedic voices, screams and endearing awkwardness. The trio donned all red, Sasami in a star-laden cape. Songs like "Pacify My Heart" went from soft to screeching, and the crowd nodded along harder to the heavy, jam-y sound. "Jealousy" also ended in a heavy screeching solo and some surprising screams at the end. "I'm sorry I'm Korean I have to tune between songs" she said as she tuned her guitar.
Catch Broken Social Scene the rest of this week at The Fonda with opening acts Hand Habits and Superet.
Setlist:
1. Pacific Theme
2. Can't Find My Heart
3. All to All
4. All I Want
5. 7/4 (Shoreline)
6. Cause = Time
7. Protest Song
8. Superconnected
9. Stay Happy
10. Art House Director
11. Hotel
12. Boyfriends
13. Fire Eye'd Boy
14. Gonna Get Better
15. Sweetest Kill
16. TBT (La Force cover)
17. Skyline
18. Almost Crimes
19. Ibi Dreams of Pavement (A Better Day)
Encore:
20. Hug of Thunder
21. Lover's Spit