The Black Ryder main page
The Black Ryder Headline West Coast Shows With Very Special Guests Plus Additional Dates With The Jesus & Mary Chain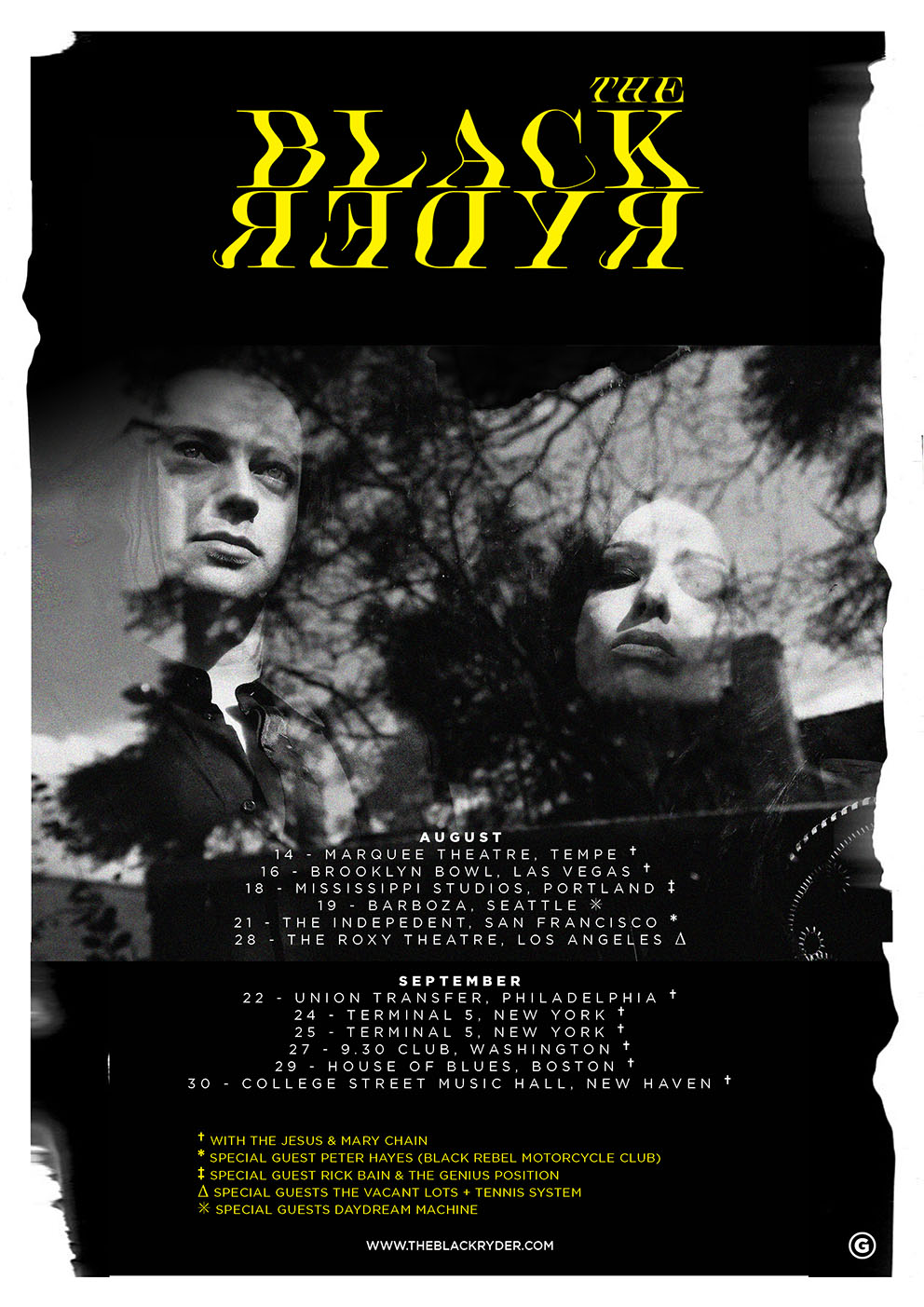 "One of the highlights of the entire day had to be The Black Ryder's performance. Holy shit. I had been waiting to see this band for years, and everything finally came together as I stood in the very front of the Levitation tent." NOISEY
Having played in the U.K. and U.S. to promote the release of their new album, "The Door Behind The Door", with sold out shows in NYC and London, The Black Ryder will be embarking on a run of headlining west coast dates in August. The band will also be re-joining The Jesus & Mary Chain on the second leg of their U.S. tour, following their previous critically acclaimed sold out North American dates together.
The Black Ryder have curated their upcoming headline shows with very Special Guests Peter Hayes of Black Rebel Motorcycle Club in San Francisco; The Vacant Lots and Tennis System in Los Angeles; and Rick Bain & The Genius Position in Portland.
The band has earned a reputation as a formidable live act, noted as a highlight of the Levitation festival in Austin by fans and media whilst performing alongside such iconic artists as Tame Impala, Primal Scream and Spiritualized. Their album, "The Door Behind The Door", has been praised as one of 2015's most significant releases, and with Jim Reid of the Jesus & Mary Chain in attendance at their compelling in-store performance at Amoeba Music in San Francisco and numerous accolades from the press, the allure of The Black Ryder is undeniable.
These are likely to be the last shows the band will play this year, and with fans, the media and The Jesus & Mary Chain voicing passionate praise from their recent live shows the opportunity to see The Black Ryder perform live should not be missed.
August
14 – Marquee Theatre, Tempe (w/ JAMC)
16 – Brooklyn Bowl, Las Vegas (w/ JAMC)
18 – Mississippi Studios, Portland
19 – Barboza, Seattle
21 – The Independent, San Francisco
28 – The Roxy Theatre, Los Angeles
September
22 – Union Transfer, Philadelphia (w/ JAMC)
24 – Terminal 5, New York (w/ JAMC)
25 – Terminal 5, New York (w/ JAMC)
27 – 9:30 Club, Washington (w/ JAMC)
29 – House of Blues, Boston (w/ JAMC)
30 – College Street Music Hall, New Haven @ (w/ JAMC)
"The moaning feedback drone in "Seventh Moon" has the gorgeousness of a Neil Halstead lead, "Let Me Be Your Light" has a candy-kissed psychedelic swirl, strings and all, that serves as the perfect backdrop for Nash's whispery vocals, and "Until the Calm of Dawn" brings to mind the acid-fried Disneyfications of prime Mercury Rev, with a twinkly music box set against a sweeping orchestral arrangement." PITCHFORK
""The Door Behind the Door", is beautifully slow burning, its grinding guitars and heavy layers of dark, feted romance akin to Spiritualized and the Jesus and Mary Chain." THE GUARDIAN

"The Black Ryder tends to swirl together breathy post-rock crescendos, plaintive shoegaze melodies, and psychedelic sprawl to create a greater, sprawling whole. The LA-based Australian duo does so to great effect on its latest record, "The Door Behind the Door"." NOISEY
"8/10 – Nu-shoegazers trip the dark fantastic. Offering black-on-black swirls of hypnotic psych gloom." UNCUT MAGAZINE
"Ethereal drone, ceremonial percussion & dead-eyed harmonies carry on together until they build up to something sublime. There's never really a climax because the whole thing feels like one overwhelming wave of gorgeous noise." STEREOGUM
"They sound like the greatest band that Creation never released in their golden period and their blissful tripped out indie perfection is quite magical." LOUDER THAN WAR