Slowdive main page
Shoegaze, the Sound of Protest Shrouded in Guitar Fuzz, Returns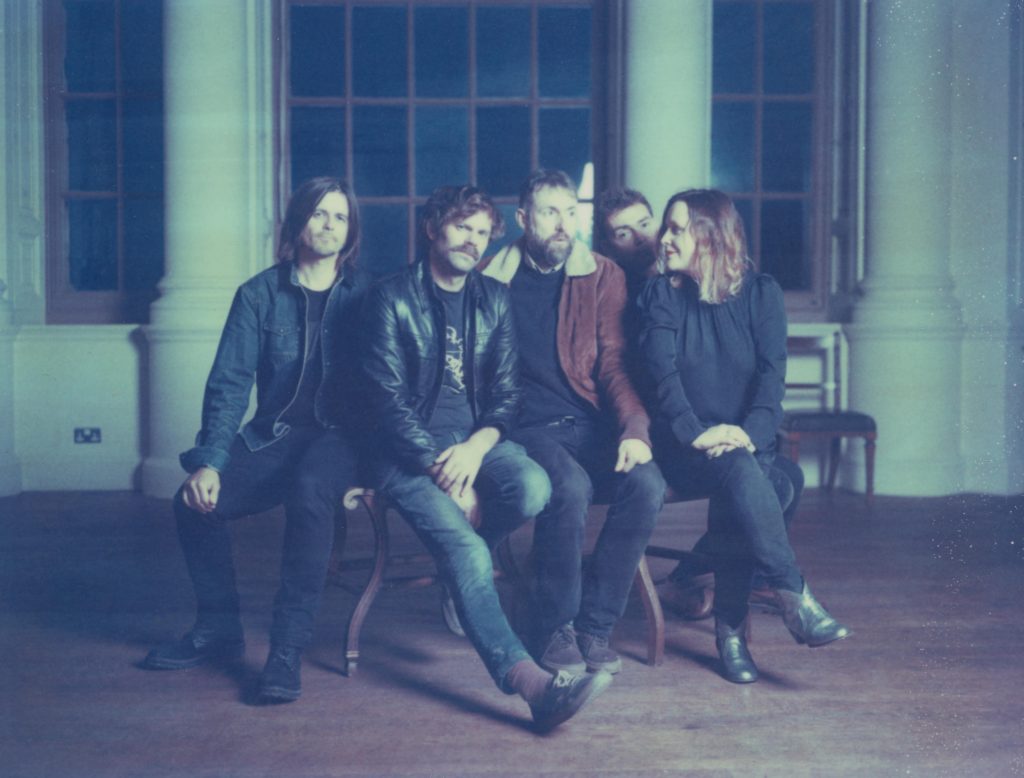 In May, the British band Slowdive, a pioneer in the shoegaze genre, played a pair of shows at Brooklyn Steel in Williamsburg. Two months later, a wash of more muscular fuzz made its way up through the tiers of Terminal 5 as Ride took the stage at that Manhattan club. Both bands formed in England in the late 1980s, achieved critical acclaim in the 1990s, reunited in 2014 and released new albums in the past few months that have reverberated on both sides of the Atlantic.
As with many reboots of acts from the '90s, attention from radio or streaming services isn't a concern: Plenty of fans matured into adults with expendable income who can sustain a live-music nostalgia industry.
Shoegaze — named for its players' tendency to stare down at complex warrens of effects pedals, or stompboxes — was born out of a young British population so numbed by successive Conservative governments that it turned to sonic immolation. By the early 1990s, the guitar had covered a lot of ground since Hendrix: the prog-rock splatter of the late '70s; the crisp arpeggiations of the Smiths' Johnny Marr; the shimmer of the Cocteau Twins; the clean lines of New Order and the Cure. But across the ocean, America became seized by grunge's fuzzed-out rage, and when that sound bounced back to Britain, one logical progression was shoegaze — heavenly clouds of distortion under soft, androgynous vocals. Those effects pedals became crucial; from those new circuits sprang the sounds of resignation.
But with technology comes glitches, and on the first night of its stint at Brooklyn Steel in May, Slowdive was stymied by digital gremlins. The show was interrupted when Neil Halstead, one of the band's guitarists and singers, had trouble with one of his dozens of pedals.
"I know we're shoegazers, but literally everyone onstage was staring at my pedals, trying to figure out why they kept going on and off," Mr. Halstead said with a laugh backstage the next day.
"Part of the fun of putting the band back together was that we all kind of went out and got into pedals again," he added. "That's why the records sound like that in the first place. We were interested in ways to make the sound bigger."
The new self-titled album by Slowdive, which regrouped three years ago after nearly two decades of inactivity, updates its ethereal, dreamlike sound, sharpening the tone established on early records like "Souvlaki," which was first released in 1993. At the time, that aesthetic was brighter and crisper than the sound of My Bloody Valentine, perhaps the most prominent name in shoegaze, which combined pummeling rhythms, searing walls of distortion and obsessive studio trickery. (Its seminal 1991 album, "Loveless," was rumored to have bankrupted its label, Creation Records.)
My Bloody Valentine itself regrouped in 2008, and released an album in 2013, but the mantle of shoegaze, or "dream pop," as the British music journalist Simon Reynolds calls it, was not idle in the interim. New generations often discover previous trends and genres with the benefit of context; over the past few decades, bands like Beach House, M83 and Hum expanded on 1990s British musical templates and made them popular to new listeners — or simply kept doing what works.
"Anything of any merit or nutritional value in the past will get its return," said Mr. Reynolds, the author of books including "Retromania: Pop Culture's Addiction to Its Own Past."
To Mr. Reynolds, the sociopolitical climate in Britain had created a sense of defeat among young people who were coming of age just as bands like Slowdive, Ride and Swervedriver were forming. There were a few genres in which to lose oneself: Some involved drugs, and some involved sounds that worked pretty well with drugs.
"By the time John Major left power, which was '97, it had been something like 16 or maybe 17 years of Conservative rule," Mr. Reynolds said, referring to the former prime minister. Mr. Reynolds identified two scenes that appealed to the young and idealistic: shoegaze "for your sort of guitar-loving, middle-class students," and rave culture, which was "druggie, working-class, also kind of an escape in a way."
Rave culture went on to splinter into myriad factions of dance music that have been absorbed into mainstream pop and hip-hop. Britpop, the other guitar revolt of early 1990s Britain — which polarized into the working-class anthems of Oasis and Blur's clever experimentalism — became wildly popular, and nearly toppled by its own hype. But in many ways, shoegaze is that period's understated protest: one with more roots in defeat than defiance. The return of the genre's early pioneers at a moment when new waves of conservatism have seized large parts of Europe, Britain and the United States may be coincidental, but it does evoke a sense, as Mr. Reynolds said, "of being exiles, really — exiles in your own time and your own culture."
He added, "The idea of sort of escaping it all in this gorgeous cloud of noise seemed apt somehow."
Mr. Halstead said that when Slowdive was crafting the sound it became known for, the band had no designs of making music for an audience other than itself — and no political leanings. The groups that had influenced them, he said, were occupied with creation, not reaction.
"All those bands were really interested in just trying to make different noises with guitars," Mr. Halstead said. "And at least for us, there was no real pressure to make records that would be played on the radio."
Unfortunately, technical difficulties returned at the band's second show at Brooklyn Steel. As the band took the stage under beams of light and plumes of fog and began "Slomo," the opening track on its new album, it became clear the house speakers weren't working, meaning the iridescent groove sounded faint to the crowd, as if there was a band rehearsing somewhere nearby. Given the location in Brooklyn, there probably was, updating another sound from another decade.