Patti Smith and Her Band main page
Concert Review: Patti Smith Displays her Punk Rock Fury at Carnegie Music Hall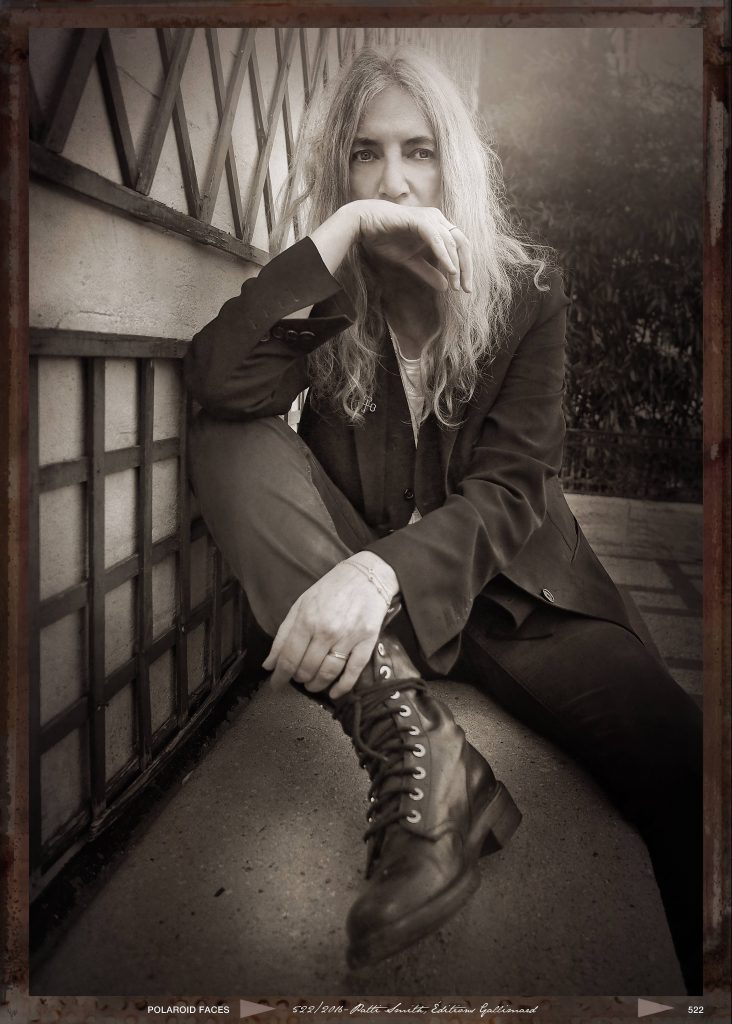 By Scott Mervis
And the Punk-for-Life Longevity Award goes to … wait, punk rock doesn't need any stinkin' awards.
But if punk rock HAD awards, this one would go to Patti Smith, who showed up at Carnegie Music Hall in Oakland Monday night as fierce — no, more so than she was the day she first hit the scene in 1975.
Smith hit the big 7-0 in December and when I say hit it, she probably punched it in the face.
The legendary punk poet is on the road celebrating the 40th anniversary of her staggering debut album, "Horses," by playing it in its entirety. These sorts of tribute shows can go a couple different ways. Sometimes it takes your breath away. Sometimes it's too perfect. Sometimes everyone seems bored with parts of it, eager to get on with the good stuff.
Rarely does anyone take the album and turn it into a living, breathing piece of performance art, but Patti Smith has always been as much an artist as a rock star, and nostalgia is not her game.
She took the stage with longtime Patti Smith Group members guitarist Lenny Kaye and drummer Jay Dee Daugherty, with son Jackson on bass and keyboardist Tony Shanahan, looking every bit the icon in her trademark black jacket and vest, gray jeans, boots, scraggly gray hair hanging long. Over the inviting piano intro, she greeted the sold-out crowd — stocked with a who's who of the Pittsburgh punk/art scene — with the most provocative opening line ever on a debut album, "Jesus died for somebody's sins, but not mine," and soon she was off on "Gloria" spitting out the "G-L-O-R-I-A"'s with a fury.
Not far into, she walked to the mic and said "s—" with a smile, having flubbed a line, then patiently waited for the cue to circle around. She would explain that, as her son was aware, she has this strange weather sense and was feeling "a little off because of the storm … I can feel it coming and it's a little hard to breathe."
She didn't need to tell us, because we already knew, but she did: "This is not going to be the usual 'Horses' performance where it's so professional, it makes you want to vomit…it's going to be an experiment in stamina."
Part of that is because "Horses" is the kind of record that refuses to be reined in. The closest thing to a straight pop song is the sexy reggae jaunt "Redondo Beach." Most of it is a jazz-to-rock-to-punk framework for Smith's free-form poetic flights, so she didn't adhere to the original lyrics of "Birdland" and "Free Money," changing the words, adding little vocal riffs, throwing in lines about our rivers and bridges.
Her voice isn't what it was when she recorded the album. Nope. It's only gotten deeper and more forceful.
The album built in intensity on side B with "Kimberly," the band adding an extra churn of the Velvet Underground's "I'm Waiting for the Man."
She mentioned that earlier in the day, speaking of the Factory, "we did go see Andy Warhol's resting place," describing a "monochromatic" winter scene of hills and bare trees. "He didn't really like me that much," she said of the Pittsburgh-born pop artist, which is no surprise, considering the tension he had with rock stars. She adjusted that to say that "he got to like me more later," leading her to wonder, "Is he gonna be happy to see me?" She sensed that he was.
She introduced "Break It Up" as a disjointed set of lyrics inspired by a dream she had about Jim Morrison. She wrote it with Tom Verlaine of Television, who assured her, in spite of her more "Spock"-like approach, "you don't have to have logic in a song." The focus ended up being the "break it up's," which she got the crowd to shout along, despite admitting that going way back to a "Kumbaya" incident at a Joan Baez show, she was never one to be an active participant at a concert.
"Land/Gloria" was the deep journey, a punk rock tour de force, unfurling the dizzying sexual adventure of "Johnny," spliced with her menacing calls to do the Twist, the Watusi and the Pony. It came with her spitting across the stage and shouting "I got the greatest weapon of all and that is love, mother ——." Later, she would have a different weapon.
She closed "Horses," with "Elegie," her abstract homage of Jimi Hendrix written with former flame Allen Lanier of Blue Oyster Cult. Saying that "the departed live in the memory of the living," she finished it, over a jazzy coda, with a somber benediction: "Jimi Hendrix, Jim Morrison, Brian Jones, Kurt Cobain, Amy Winehouse, Joe Strummer, Joey Ramone, Tommy Ramone, Dee Dee Ramone, Johnny Ramone, Richard Sohl, Robert Mapplethorpe, David Bowie, Lou Reed, Prince, Fred 'Sonic' Smith."
With that, she left to get some air, giving Kaye and company the stage for a few garage-rock Nuggets. "We're gonna send this one out to Porky Chedwick, Mad Mike, all the great records that came out of here," the guitarist/rock historian said, leading them into a romp through Burt Bacharach's "My Little Red Book" and "7 and 7 Is," two songs from the Love playbook.
Patti, now dancing barefoot, returned refreshed for a second mini-set that began with a fiery "Pissing in the River" and a brief confrontation with a fan up front who must have been telling another one to sit down. "Excuse me," she said, "we don't need any seating police here," before breaking the tension with, "If you want to say 'Well, I can't see,' there's nothing to see, just decrepit old me trying to get through a night."
"I like it when everyone's unruly," she added. "Know why? It reminds me of when I was 69."
She would get to unruly herself, but first she honored immigrants with "Citizen Ship," celebrated her love/lust for "Sonic" Smith with "Because the Night," and showed just how beautiful her voice was on a stunning "Wing" (with a cool, reverby guitar solo from Jackson). Just before that, she went a cappella on a bit of that "Kumbaya" and "Young But Growing Daily," complete with a recollection of how she eventually got to meet Baez once backstage, and sing with her, even if the key didn't suit her.
She closed the set with an impassioned, fist-pumping version of her freedom anthem "People Have the Power," urging her fans to "use your voice!"
She could have stopped there, but returned to shred the place along with some guitar strings on the "Horses" bonus track: "My Generation." We are 40-plus years into punk rock, and damn if this wasn't one of the most punk things we'll ever see. It was positively explosive, as she roared out the vocal, stuttering on the "g-g-generation," revising the line to "hope I live till I'm 100-[expletive]-10!" and then riffing on what it means right now: "We had dreams, man, we wanted to change the world … with rock 'n' roll, and what came of it? [Expletive] Donald Trump!"
She had a message for president 45: "We will NOT behave!"
Holding up a black Stratocaster, she cried, "Behold the greatest weapon of my generation! … He wants to be on top of the heap, on top of the nuclear arsenal … this is the only weapon we need!"
She scraped and tugged at the strings, eventually ripping some off in a feedback frenzy, climaxing the most intense, purposeful performance she's ever given here. Because the night … belonged to Patti Smith and to "Horses" and to love and rage and punk and friendship and memories and dreams and the defiant refusal to ever get old or fade away.
Patti Smith Set List
Gloria
Redondo Beach
Birdland
Free Money
Kimberly
Break It Up
Land / Gloria
Elegie
My Little Red Book (Burt Bacharach cover)
7 and 7 Is (Love cover)
Pissing in a River
Citizen Ship
Because the Night
Kumbaya
Young but Daily Growing
Wing
People Have the Power
Encore:
My Generation (The Who cover)