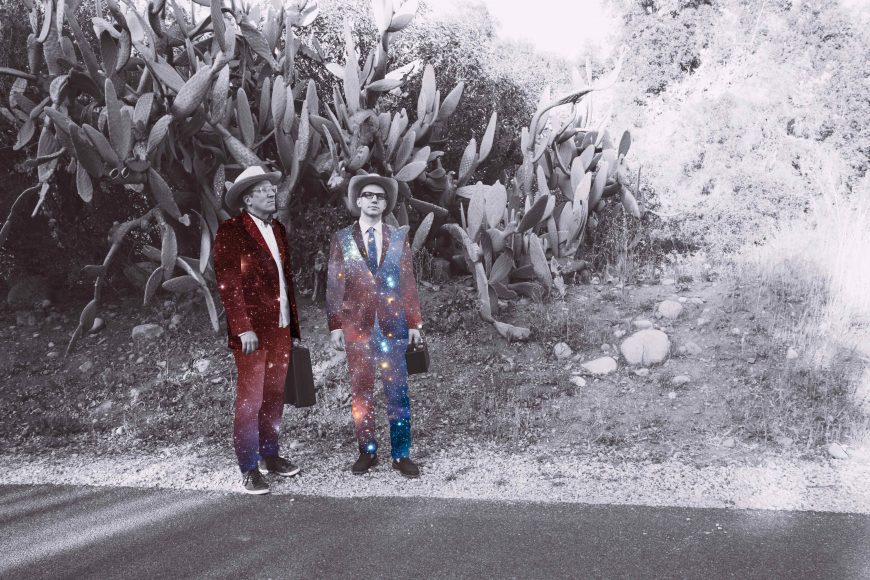 Quindar
Biography
Quindar is a collaboration between Grammy Award-winning musician/producer Mikael Jorgensen of Wilco and art historian and curator James Merle Thomas. Combining archival research with musical composition and performance, the duo uses historically significant audio recordings and film to create experimental electronic music and synchronized video projections. The duo derives its name, Quindar, from the ubiquitous transmission beeps heard during NASA's early manned spaceflight missions, and their first LP, Hip Mobility, is built from elaborate use of audio recordings from NASA archives of that golden era.
Quindar has worked since 2012 with the National Air and Space Museum, USC School of Cinematic Arts and The National Archives to digitize archival recordings and films created by NASA researchers during the 1960s and 70s. Hip Mobility is available on Butterscotch Records in a deluxe 12" gatefold vinyl package as well as hi-res and standard digital formats. The LP features artwork by renowned graphic designer Lawrence Azerrad of LAD Design (Wilco, Miles Davis, The Beach Boys), and the extensive liner note essay—part manifesto, part historical exposition—dives deep into the band's artistic and conceptual viewpoint.
It's clear that the first single "Twin Pole Sunshade for Rusty Schweikart" is an infectiously dance-driven track, yet because it's named after the American aeronautical engineer and former NASA astronaut (who communicated with astronauts in real-time during their spacewalks), the song stands as a thematic reference to Hip Mobility as a whole. But dig even deeper into the soundscape — up the volume in those headphones, if you will — and it's clear that the track is a historical document as well, combining the sounds of early computing, telemetry systems, and radar equipment with space-mission recordings and early synthesizer technologies that flourished during the same era. The subtleties found in this track are explored further throughout the album on tracks like "Wembley" and "Honeysuckle This Is Houston," which the duo mirrors even further in their large-format A/V component in the live setting.
Quindar performs with a responsive video system which includes newly digitized 16mm film footage produced by aerospace corporations at the height of the Space Age. Using commercial, corporate, and government documentation of the everyday — and often banal —experience of living and working in space, Jorgensen and Thomas edit and transform these archival materials into discrete compositions that serve as templates for live improvisations in museums, galleries, theaters, and other venues.
This is not the glitz and glamour that one might normally associate with the golden age of space travel. Instead, Jorgensen and Thomas are interested in the "minor histories" of the era —zooming in close on the minutiae the casual eye and ear might miss, spotlighting specific elements of space travel and NASA space life in order to draw out unexpected—and perhaps less heroic and less grand—narratives. This approach to the archival materials is informed by visual artists who also "remixed" visual elements of the Space Age, specifically Robert Rauschenberg, Larry Sultan and Mike Mandel. The result for Quindar is a music that presents us with the humbling wonders of outer space itself while shrinking mankind's "conquering" of space down to it actual, miniscule scale.
The tracks on Hip Mobility were produced and refined in a number of studios throughout the US — Transmitter Park Studio, Greenpoint, Brooklyn, NY; Inner Ear Studios, Arlington, VA, as well as additional studios in Los Angeles and Ojai, CA between early 2012 and mid-2015. In addition to archival recordings, instruments and digital synths used on the album include the Crumar DS-2, ARP-2600, Moog LP Stage Edition, Roland JX-10, Elektron Analog 4 / Machinedrum / Octatrack, Korg MS-20, VolcaKeys, and Pittsburgh Modular Lifeforms Systems, amongst others. Tracks were further complimented by occasional acoustic instrumentation.
Quindar's head-turning performances in 2017 at Big Ears Festival, The Philadelphia Museum of Art, Eaux Claires Festival and Wilco's Solid Sound Festival and signal the beginning of much more to come.
---