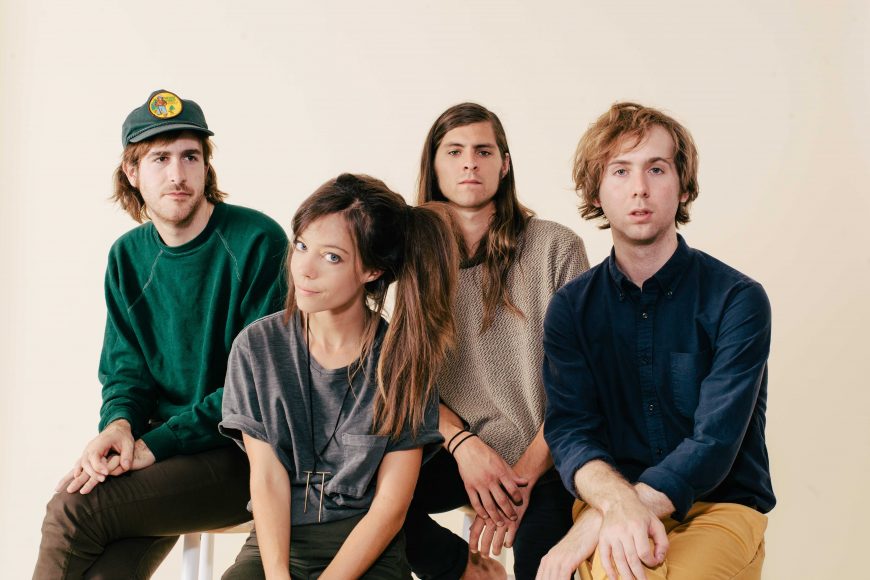 Quilt
Biography
QUILT was formed in late 2008 in Boston, MA.
Shane Butler, Anna Fox Rochinski and Taylor McVay met at the School of the Museum of Fine Arts, and spent the next couple of years honing a strange yet magnetic ramshackle sound in the smoke-filled basements and living rooms of Jamaica Plain and Allston. They released a home-made tape in 2009, touring DIY style around the northeast in a 1993 Buick Roadmaster.
In Spring/Summer 2010, the trio recorded a collection of seven songs in the home of Jesse Gallagher, in Cambridge. The following winter, after Taylor's amicable departure from Quilt, John Andrews was recruited and subsequently plucked from the suburbs of New Jersey to join the band on a tour to SXSW.
It was around this time that those seven songs had made their way to the big guy's desk at Mexican Summer records in Brooklyn, via former Captured Tracks label manager Katie Garcia (a friend from the college years in Boston). The band returned to Cambridge and recorded three more songs, now with the songwriting input and drumming from John.
Quilt's self-titled ten-song debut was released in November 2011 on Mexican Summer to positive reviews from critics and the band began touring in support of the record on and off for the next year or so.
Their following record, Held In Splendor, was recorded in Brooklyn with producer Jarvis Taveniere. Released in early 2014, the album ushered in another year of near-constant touring. The trio recruited New Hampshire-based bassist Keven Lareau for their live shows.
Nearly two years later, Quilt's third full-length record, Plaza, will see the light of day on February 26th, 2016. Lead singles "Eliot St" and "Roller" have been met with praise and the group has full US and Europe tours lined up.
The band considers itself a New York-based band that formed in Boston.
The 4 members reside in Brooklyn, Upstate New York, and New Hampshire.
And as lovely as it was to tour in a 20-foot station wagon with faux-wood panelling, they eventually upgraded to a 12 passenger Chevy Express van. His name is Big Earl.
---