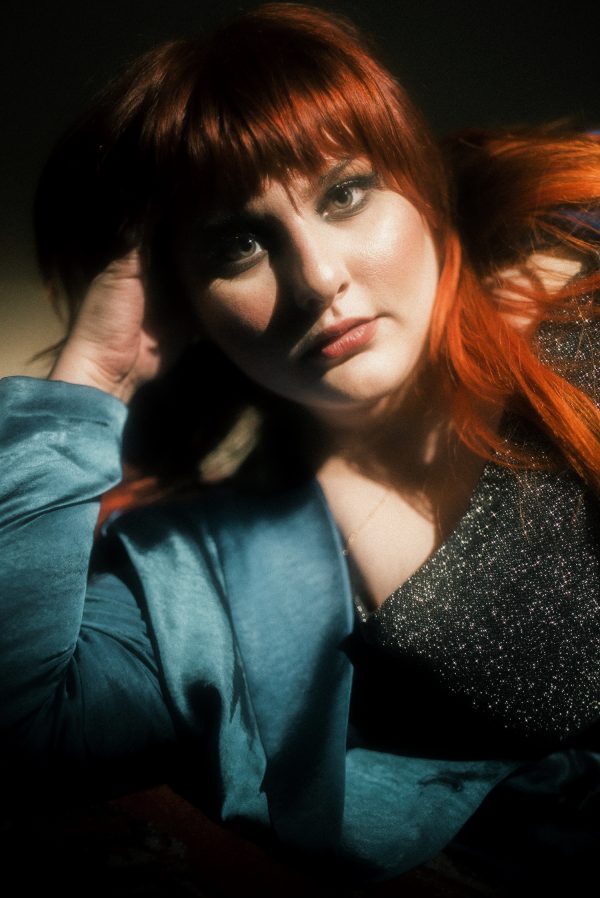 Kississippi
Biography
The night before an L.A. recording session, Kississippi's Zoe Reynolds spotted a flashy billboard ad for an auto repair shop; "Get In Tune," it read, an imperative that felt like a call to connect and a call to get better. It took her mind to Bruce Springsteen's iconic garage-set video for "I'm On Fire," and almost immediately a new song began to take hold. With bubbly synth pads, atmospheric guitar swells, stacked harmonies and drop-out-ramp up drum beats, "We're So In Tune" captures the synchronous excitement of new relationship energy in vibrant waves of sound, crashing and receding like an uncontainable impulse.
"A couple people have commented on how it's NOT in tune," Reynolds jokingly remarks, citing the Lorde-ian, shout-along gang vocals behind the chorus. "But it doesn't have to be; I wasn't in tune with that person, either."
The song serves as the bar-raising first song on Mood Ring, Reynold's second full length as Kississippi and first for Triple Crown Records. Like its opening track, the album is full of her trademark talent at channeling deadpan emotional observation into poignant musical metaphors. Kississippi comfortably filters pop grandeur, emo's deliberate rawness, and Nashville's studio largeness through a lens of punk camaraderie. Just like the album's title suggests, Reynolds writes through a spectrum of shifting emotions: elation blending into insecurity and back around into gorgeous awe.
Originally a home recorded solo project for Reynolds to explore her folk songwriting on acoustic guitar, Kississippi cut its teeth touring on Fest-friendly pop punk, and the project solidified its emo cred supporting third wave genre progenitors Dashboard Confessional. But like her earliest songwriting heroes Cat Power and Liz Phair (who Reynolds describes as "vulnerable and weird girl rock stars, which was something I saw in myself"), Kississippi songs transcend genre, and lend themselves just as well to slick arena-ready production as they do rock instrumentation. After working closely with Philadelphia studio mainstay and mentor Kyle Pulley on 2018 debut Sunset Blush, Reynolds felt encouraged to explore the sonic possibilities in electronic-focused pop, taking inspiration from favorite bands like Beach House, CHVRCHES and Purity Ring. She learned to produce with studio software Reason, delving deep into its "fun synth sounds and weird tools" to develop the lushly-layered demos that would inform Mood Ring.
Mood Ring's cover art—a saturated photo of chewed up, perfectly pink bubblegum displayed in a debonair blue corduroy ring box—evoked some of the outsized feelings Reynolds needed to write through. "I wanted to reflect on my youth while also growing," she explains. "The album is nostalgic, bringing you back to having a childhood crush and sharing those feelings with your friends." But like all nuanced pop, moments of brightness divert dark shadows, and the record also grapples with guilt. "I went through a lot of self-doubt while writing, and was trying to find myself."
One of the record's most startling moments of beauty, "Big Dipper," uses serene wisdom to lament the difficulty of change, even change that's right. Over subtle Wurlitzer and bright strums, Reynolds sings, "I'm a meteor shower glowing blue"—a line she wrote in the clarity of early morning over a mournful, airplane-penned chord progression. It's one of several moments where she describes the romance of stars and the luminance of the sky. "Moonover," about the complicated pull of an eclipsing love-at-first sight, combines disco bass, breakbeats, twangy guitar leads and glitchy samples with Reynold's front-and-center, time-traveling plea: "If this is the future, let's go back in time." She's also credited with playing a "Lexapro shaker and Guayaki can"—percussion she describes as "a little bit of the energy that was going into my body." Finding levity and humor in overwhelming, powerful feelings—whether that's through soaring harmonies or unconventional instrument choices—is Reynolds' secret weapon, and helps turn even the darkest post-adolescent pains into buzzy earworms.
Most influential on finding this unique balance was producer Andy Park, whose diverse experience engineering and mixing for artists like Noah Gunderson, Death Cab for Cutie, Princess Nokia, and Now, Now drew Reynolds to him. "Andy really took major charge with the production," Reynolds emphasizes. "The songs I brought to him were truly transformed." Park added surprising overdubs on almost every instrument, and helped Reynolds uncover new levels to her vocal performance. "He does Ciara's vocal production and acted almost as a vocal coach to me at certain points. There were things I did with my voice I had never tried and didn't know I could do," explains Reynolds, who's long been renowned as a skillful singer but showcases her leveled-up chops across the record. "He's a really smart guy, and he made it such a comfortable experience for me."
Like the innovative pop artists she admires most, Reynolds wanted to push herself creatively, and challenged herself to co-write with Park and additional songwriters. "I used to want total control over all of my stuff—I think that came from being taken advantage of by men in the music industry, and people I played in bands with. But I have more fun when I'm working with other people," she admits. Mood Ring boasts contributions from Park, illuminati hotties' Sarah Tudzin (including "Get In Tune" and the '80s-inspired synthesized dance-along "Around Your Room"), Los Angeleno writer and producer Derek Ted (on three songs, including the sparkling, explosive guitar groover "Heaven"), as well as Phoebe Bridgers' frequent sideman Marshall Vore (on the heartbreaking, spacious "Hellbeing").
With an increased focus on delivering masterful, evocative vocals, Reynolds was thrilled to record alongside a Seattleite Wrecking Crew of in-studio musicians, as well as some friends contributing remotely. Featured players include: drummer Sean T. Lane (Pedro the Lion, Perfume Genius); guitar and bass shredder Jessica Dobson (Deep Sea Diver, Beck, The Shins); guitarists Sébastien Deramat (Cumulus, Special Explosion, Apples with Moya) and Zander Hawley (Honeywater); bassist Tyler Caroll (Allen Stone, Jonas Brothers); and pianist Josh Rawlings (The Teaching, Macklemore and Ryan Lewis). Then there were the many friends on backing vocals (including co-writers Tudzin and Ted): Great Grandpa's Al Menne, Bartees Strange, labelmates Foxing's Conor Murphy, and Lisa Prank's Robin Edwards (who Reynolds met at a Cumulus show while recording).
Finding space within the music scenes she admires has been a central focus of Reynold's life as a musician; wanting a voice in Philadelphia's then-male-dominated scene was an impetus to found Kississippi, and community support also motivates her work as a graphic designer for record labels and bands. The supportive trust between Reynolds and her collaborators—as well as her new team at Triple Crown—helped bring Kississippi's songs and arrangements to great new heights. While Reynolds' sure-footedness with synths, drum machines and pop hooks may seem like a departure from Kississippi's earliest days, Reynolds promises, "I feel the emo and punk presence everywhere on this record." Her adeptness at honoring and combining the musical styles she loves has resulted in an abundant album full of heart, humor and honesty. Gazing back at juvenile lust with the precision of hard-won wisdom, it's a giddy joy to be enveloped in Mood Ring's sweeping sounds and sincere sentiment.
---
Video & Press
Stereogum Review: Kississippi – "Around Your Room"

[Stereogum] By James Rettig Kississippi, the increasingly pop-minded project of the Philadelphia musician Zoe Reynolds, have released a new single, "Around Your Room," today. The onetime Band To Watch got their start making wispy and hypnotic folk reveries, which opened up into more muscular fare on their debut full-length, 2018's Sunset Blush. "Around Your Room" is their most […]

World Cafe Studio Sessions: Kississippi

[NPR] By Talia Schlanger For an emerging artist putting out a debut album, recording a session for this show, which airs across the country, could be a nerve-racking experience. Especially if your album features a full electric band, you planned to play with them for the session and on the day, one of the members […]
---