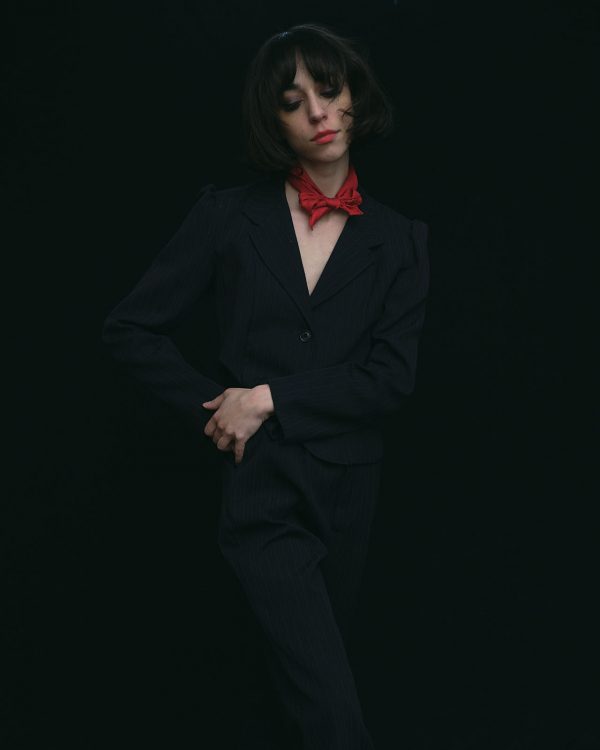 Jackie Cohen
Biography
One evening in early summer 2020, Jackie Cohen found herself sitting alone at the side of a pool at a stranger's home in a small town on the East Coast, an oil lamp flickering at her side. Befitting the shimmering water at her feet, Cohen found herself reflecting. "I was in the middle of this horrible personal crisis, and for the first time in my life I just asked the universe for a sign, some signal that everything was going to be okay," Cohen says. At that very moment, a large white moth bolted across her eye-line and directly into the open flame of the oil lamp. "He just dive-bombed, self-immolated," Cohen says, still in chuckling disbelief years later. "That was my message." From that point forward, Cohen decided the only way forward was to succumb to the crisis, to relax into it instead of fighting, to find beauty even in the flame—an approach that fuels her sublime new album, Pratfall, due September 22nd via Earth Libraries.
Prior to that transformative poolside evening, Cohen had spent a year touring in support of her sophomore release, Zagg, a record dotted through with poetic witticisms and daubed in strings and horns—a gritty pocket of the sun-stained California mystic continuum somewhere between Nilsson Schmilsson and Have One on Me. While she'd been writing songs for the eventual followup on the road, it took that winged messenger to crack open the new world Cohen aimed to explore. Before the moth, Cohen had been focused on Meryl Streep, a master of the pratfall. "When you see it, you gasp and hold your breath because it's so violent that you worry it's real. You want to look away but you can't, not until she gets up," Cohen says. "And when she does finally jump up and say 'tah-da,' you're so relieved that it was all just a bit that you burst out laughing." Cohen knew her album would embody that anxious, unbelievable, uncomfortable interim where the pain of the fall and the magic of the rise each hold equal potential yet to be realized.
On Pratfall, Cohen renders both extremes of that range of experience in warm, inviting indie pop. A prime example comes in lead single "Moonstruck", a Fleetwood Mac-esque wash of acoustics, thundering tom-toms, and sepia piano. "I've had some trouble sticking my landing/ So if you need someone to understand you, I understand," she breathes, before the song churns through pained urges. "Get the knife," she repeats, spinning electric guitar surrounding the listener like the eye of the storm. Like the Ten of Swords in a tarot deck, pinned down by a plethora of blades, Cohen found herself stuck in a present of sharp edges, a moment left behind before the lessons and rebirth. "People so desperately want to gloss over these in-between moments because they're mortal and uncomfortable, full of uncertainty and helplessness," Cohen says. "But we have to sit with the ruins, be shredded apart for a second as we gather and take stock of what remains."
Because of the record's pandemic origins, Cohen was only aided in studio by two collaborators: her husband, producerJonathan Rado, and engineer Rias Reed. "We were a tight pod," she laughs. The three musicians holed up at Sonora Recorders in Los Angeles, tapping into the studio's vaulted ceilings and haunted feeling to amplify Cohen's widescreen songwriting. "Elliott Smith recorded some stuff there," she says, "and it always seemed like there was a ghost banging around in there, turning lights on and off."
In addition to its pedigree, Sonora Recorders was also just a 30-minute drive from the San Fernando Valley where Cohen and Rado had grown up. Paying tribute to that upbringing, "The Valley" acts as the record's second single, a slice of golden Americana and the most autobiographical song in Cohen's catalog. Surrounded by sterling strings and propulsive percussion, Cohen's vocals have never sounded more focused. "Don't you know/ No I know you know/ You never leave the valley," she soars, that certainty at once a promise and a threat, as the six-minute epic unravels.
In addition to studio hauntings and their childhood glowing in the rearview, Cohen and Rado steeped themselves in films from the past few decades while recording . "There was always a movie playing," Rado recalls. "We got stuck on Vanilla Sky and Eternal Sunshine for a long time, and they're both about changing memories, with a lot of movement backwards and forwards."
Third single "Ghost Story" recaptures that self-immolating moth in its self-destruction—as well as Cohen's perseverance in finding a way to rise up out of her own personal ashes. A tale of hidden flasks, raw elbows, bondage bars, and fraud, the track shows Cohen's innate ability to parse perfectly sketched short stories in undeniable indie pop glory. "He tells me I'm the best ghost story he's ever had," she calls, before the song explodes into a fireworks show of cymbals and needling guitar.
"I didn't want to write a dirge inspired by the darkest moments of my life, I wanted a cathartic moment, to experience the emotion and build from it," Cohen says. "This record is a climax where everything becomes explosive and you can just close your eyes, give in, and dance it off."
---
Video & Press
Jackie Cohen Runs for Her Life in a New Haley Dahl–Directed "Moonstruck" Video

[Flood] The LA-based songwriter announces her third album with a song dedicated to two national treasures: Cher and Nicolas Cage. By MATT WALLOCK It's all fun and games until your cheer squad tries to kill you. That's the premise of Jackie Cohen's new visual for "Moonstruck," the creeping, frenzied lead single off her forthcoming album Pratfall. In […]
---