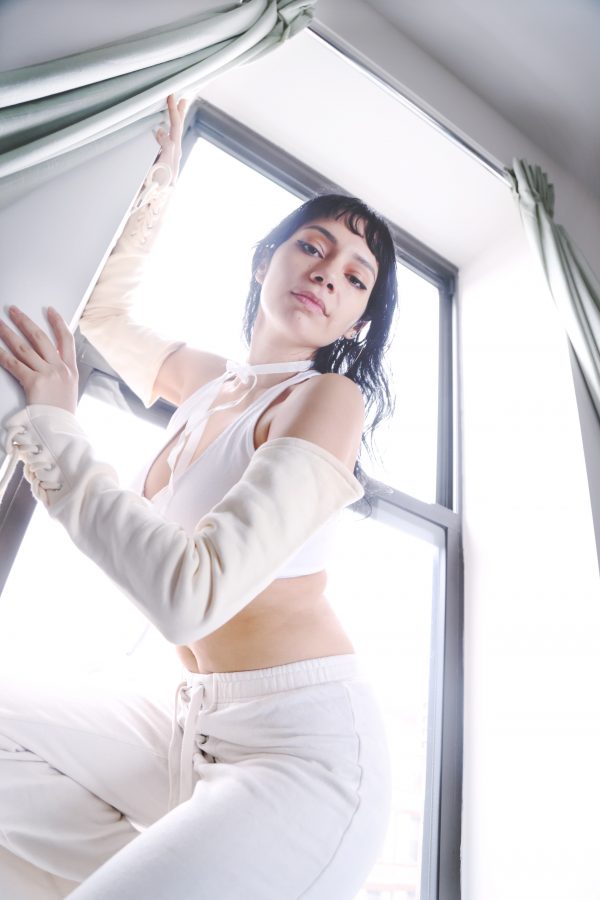 Angélica Garcia
Biography
Gemelo
In 2020, the singer, songwriter, and pop auteur Angélica Garcia was sitting before an altar that she constructed in her bedroom, as part of the process of her vibrant, prismatic third album, Gemelo. The altar was the culmination of Garcia's new inquiry into ancestral veneration: looking into the past to inform the present with familial knowledge, helping distinguish her intuition from her conditioning. As a 29-year-old woman raised by an Episcopal priest father in a traditional Latino family structure, she had devoted her recent years to a process of monumental deconstruction of religion, spirit, heritage, and womanhood, confronting grief and healing.
Communing with these objects, a cumbia-inspired song, "Juanita"—about a "limitless" woman "full of magic and wonder"—appeared. That's how Garcia felt it: the song arrived instantly, fully formed, like a "download" from the depths of her psyche and soul, or perhaps a visitation. "It felt like a gift," she said. "I was there to catch it." Soon after, Garcia's mother informed her that she had a mystically-inclined great-great grandmother, also named Juanita; the magic of the song was affirmed. "Bro, Juanita wanted a song!" Garcia laughs now. "She was like, 'Oh, you're writing bops? You need a Juanita bop right now!"
On Gemelo, Garcia holds space for this inviting mix of both serious inquiry and buoyancy of spirit, with the expansiveness of its vanguard electronic pop explorations mirroring the depth of its spiritual excavations. "Your voice, the sound of stars/Not even the gods can draw you," Garcia sings on "Juanita," an expression of beauty in a song that also probes the chaos inherent in cycles of generational trauma, and the possibilities of breaking them. Or as Garcia put it: "I wanted 'Juanita' to feel like the story of my life, but one that was also true in a past life. I wanted the song to have a never-ending quality."
Upon the release of her previous album, 2020's Cha Cha Palace, during the exact week of global pandemic shutdowns, Garcia came home to her native California for a show and ultimately stayed, living with family for two years. She cut ties with the life she had been leading in Virginia since 2011 — ending an engagement and volatile relationship — and returned to herself profoundly. "It was like getting dropped into ice water," Garcia says. "I broke from a hostile, reactionary environment and was able to finally face my shadows."
The title Gemelo refers to the twin self: the idea of a second, more intuitive self within. "It was the first time I took a hard look at myself and asked, what was I taught to believe? What is ancestral? What do I want to keep, what do I want to let go of? What can I say with my whole chest that I believe in? I started to think about life outside of our flesh body. I have my physical brain working, blood pumping in my veins, but there's this intuitive self that feels like the twin—that feeling I get in my chest when something doesn't feel correct, or when I know someone is going to be important to me."
A sound of self-realization in process, Gemelo marks Garcia's first album sung almost entirely in Spanish, her first language, the one in which she learned to sing rancheras with her family as a child. Though Garcia saw Cha Cha Palace as "a love letter to my community and my family," she quickly realized that her grandmother (a mother figure to her) couldn't understand it. "I just felt this calling," she says of embracing Spanish. "It brought out all kinds of colors that I had never seen the same way." As Garcia's most focused work, Gemelo progresses from its delicate, tender entry in Side A, which serves like almost a meditation, to the visceral intensity of Side B, which immerses into the difficult, at times terrifying work of healing. "It's like we're thrown into the arena and we have to go," Garcia says of Gemelo's second half, which begins with the blazing, rattling "Y Grito" and the quaking lurch of "El Que." "It's fucking scary, you don't know where you're going, but you have to remain grounded."
Garcia describes Gemelo's lush, widescreen second track, "Color de Delor," as a testament to "my philosophy of life," an anthem for processing how pain and beauty, rage and peace, sadness and joy all form the colors with which we render and process existence. "Sometimes you need contrast when you paint," she explains. "To a certain extent, we have a choice of how we frame things. Pain can be another color, and the more colors I have—whether it's pain, pleasure, happiness—it just means that I lived." Extending this idea, the jubilant closer, "Paloma," is "a praise song for having lived to see the full spectrum" of feeling, and "seeing divinity reflected in the people you love."
Garcia began sketching ideas for Gemelo in her bedroom in 2019, and working on demos in earnest the first pandemic fall of 2020. It was around this time that she forged an auspicious connection over Instagram with multi-instrumentalist Carlos Arévalo, a member of the Los Angeles rock band Chicano Batman. "Carlos dropped out of the sky and became like a mentor to me," says Garcia, who had been a fan of Chicano Batman growing up. As their pandemic FaceTimes accrued, geeking out about Ableton, vocal mics, influences and possible producers—and experimenting sending tracks back and forth—Garcia asked Arévalo to come on as Gemelo's producer himself, his first time working in such a role, bringing a fluency with synthesizers and a compatibly fresh perspective.
In another cosmic, full-circle twist, while Garcia had moved from Virginia to California in 2020, Arévalo made the opposite move, relocating to Fairfax, Virginia. Garcia returned to Virginia—a place laden with her own personal history—to work on the album for a month and a half at Arévalo's home studio. With little outside input, Garcia and Arévalo shaped a self-contained universe with her demos, bonding over everything from Portishead and Radiohead to Timbaland and early Madonna, incorporating front-and-center pop-vocal production and clublike textures and rhythms.
Now living in New York, Garcia was born in El Monte, California to a family with deep musical roots. Her great grandfather was a mariachi director and trumpeter in Mexico, her mother was briefly a pop singer, and her stepfather was formerly a music manager before becoming a priest. Raised primarily by her traditional grandparents, Garcia attended the L.A. County High School for the Arts as a vocalist, studying classical and jazz; when other students asked her to sing in their band, which would eventually share bills with fellow classmate Phoebe Bridgers, Garcia had to navigate her homelife by sneaking out to play house shows.
With growth and exploration like wind behind her, Garcia arrives at her clearest and most fully-realized vision of self on Gemelo. "I feel like I connected to something that I didn't know that I lost, and that, maybe even ancestrally, my family didn't know it lost," Garcia says. "It's impossible to feel at peace when you don't understand what you lost, whether it's battles that happened before me that I inherited, or issues in my present life. But Gemelo felt like clearing a fog. It felt like soul returning to body."
---